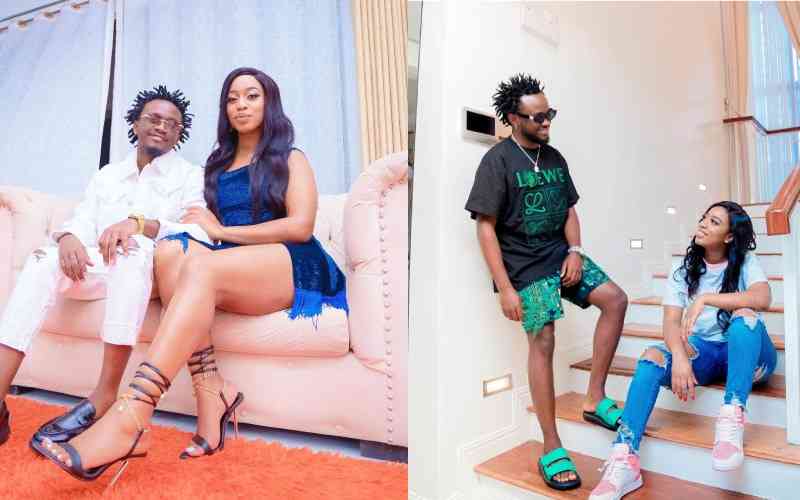 Diana Marua has reminded Bahati that he owes her a lot as far as his success is concerned.
Speaking on her Youtube channel, Diana said that were it not for her, the singer would still be wallowing in confusion.
"Were it not for me you would not have this house, those kids, four cars…you owe me a lot," she said.
Bahati quickly interjected and reminded her that it was all God's doing but Diana maintained that God used her to bring change into his life.
"Correction…were it not for God," said Bahati to which Diana responded, "The glory of God is in me, God works in me…you'd still be suffering with the people you'd be choosing."
On parenting, Bahati made it clear that he does not want any more children and proposed tubal litigation, a type of permanent birth control.
Diana vehemently disagreed saying there are alternatives to proving unconditional love and that was not one of them.
"So you want me to tie my womb yet you can go out there and sire kids left right and centre?" she asked.
Dating
On their dating life, Diana recalled how they met during a video shoot where she was a vixen and lauded Bahati's persistence when she lived miles away from him.
At the time, Bahati lived in Ruaka while Diana resided in Syokimau but the former would drive all the way to see her, though mostly at night.
"We met while shooting a music video and although guys were hitting on me, I was not interested. I was fresh from heartbreak but a few weeks later Bahati drove from Ruaka to Syokimau to see me.
"That was sweet," she said.
Diana also accused Bahati of 'trapping her', saying he was hell-bent on getting a child with her and he would often ask whether she had removed her coil.
She was not sure about Bahati's intentions as she felt he was on a 'hit and run mission' but she eventually gave him a chance.
Diana admitted that she lied to one of her exes about removing the coil because she did not want children then.
"There's a guy who showered me with money and wanted a child but in my head, I didn't want to be trapped. I told him I didn't have a coil…he kept trying but nothing happened.
"Eventually he left thinking he was the problem but I had my coil intact," she said.
Related Topics