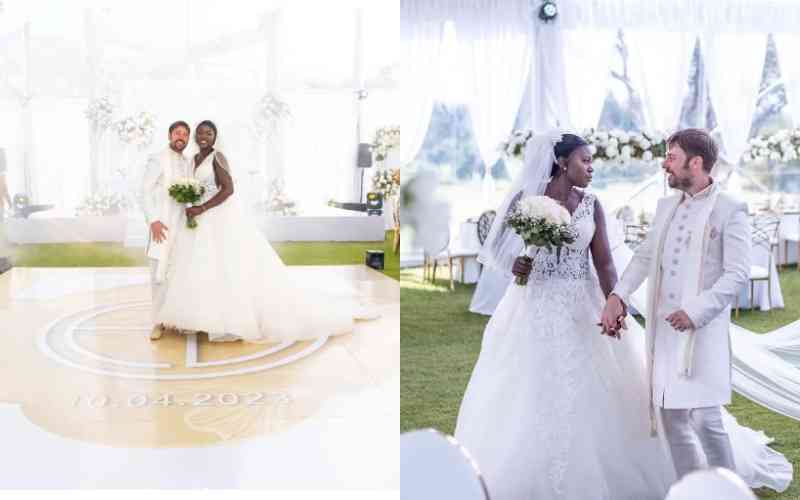 Akothee is living her dream with her dream man. Days after getting married to Denis Schweizer alias Omosh the seventh, the singer is still coming to terms with how perfectly everything fell into place.
Well, as expected, not everyone was happy for the couple and there were some heated conversations on social media but Akothee is the last person to be affected by such.
She took to her pages to heap praise on Omosh, calling him the lion that swept the lioness off her feet.
It must have been quite a task to convince the self-proclaimed ex-president of single mothers and she has a word for the naysayers.
"Secret admirers are hurt. He is good in research, much better than even the IEBC. Look at this food of mine; my soup that I take alone; this Omondi guy is really sweet.
"Allow us to walk you through our reception…I am still pinching myself if it's true that I just married my best friend," she wrote.
In 2022, Omosh narrated how he met Akothee and what attracted him to her. He narrated that he met her through a friend and after a video call, he wanted to meet her in person.
"The first day I encountered Esther, I met her through my friend Pius who lives next to Lake Zug, she was in France heading to Italy for her holidays and after this video call, I said to myself I must meet her in person. Then Pius convinced her to come over to Switzerland, and on the 16th July Esther Akoth Kokeyo was mine," he shared.
Omosh said Akothee's fame and status did not hinder his affection for her, adding that her spirit, mind, and personality fascinated him the most.
"I didn't care of her status or who she is, I fell in love with her brain, spirit, personality, energy and she is beautiful," he added.
As preparations for their wedding gathered pace, Akothee had lamented about lack of emotional support from her family and she said not everyone was pleased with her plans.
"Hey family I just said save the date on your calendar‼ Sasa vita ni ya nini? Hakuna mtu amewaambia mchange? Hakuna mtu amewaita committee! Hakuna mtu amewa add kwa preparation group. Vita ni ya nini?" she went on.
"White people operate differently, no last minute. They do their things early. We equally have an invite for October 2023 and it's not a shock. Eeee poleni basi," she wrote.
Despite the hurdles she faced in the past few months, Akothee went ahead with her plans and wedded on Easter Monday at the Windsor Golf Hotel.
She made a grand entry chauffeured by Lang'ata MP Jalang'o while Omosh rode a horse.
Their wedding was and still is a topic of discussion in various circles but the lovebirds are happy that they can finally do life together.
View this post on Instagram
Related Topics