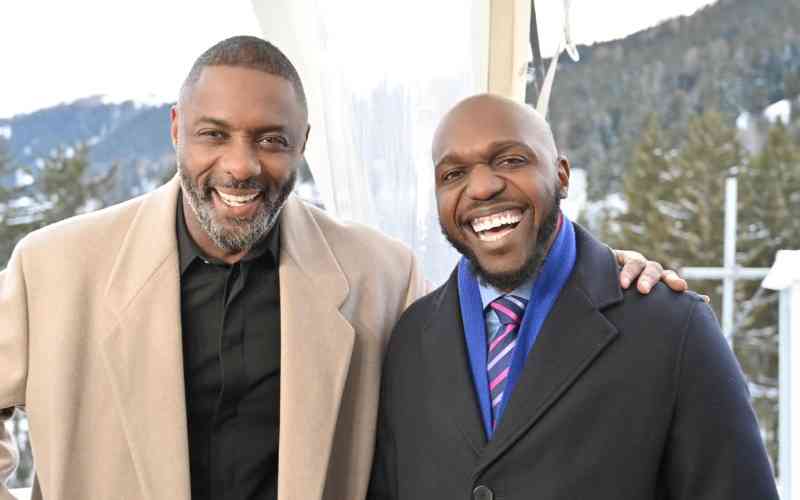 CNN International Correspondent Larry Madowo on Wednesday met renowned actor Idris Elba in Davos, Switzerland, and he could not hide his excitement.
Larry also took the opportunity to congratulate Idris and his wife, Somali-Canadian model and actress Sabrina Dhowre, who were feted for their advocacy work as UN goodwill ambassadors.
"I've seen you on TV," Idris Elba told me. "So have I." I congratulated him on all his success, and for using his voice to champion causes in Africa," wrote Larry.
Idris and Sabrina became the first couple to win the Crystal Award for the work they have done for the International Fund for Agricultural Development (IFAD).
"Three years ago I met with a rural community in Sierra Leone to learn about the challenges these farmers faced due to climate change. The trip moved me.
"Yesterday @sabrinaelba and I were the first-ever couple to win the Crystal Award for our advocacy work as UN Goodwill Ambassadors for @ifad_org and that our work has moved the needle on agriculture, food security, youth empowerment and environmental conservation," wrote Elba.
His wife echoed similar sentiments, expressing gratitude to all those who recognized their efforts.
"I am deeply honoured to have received the @worldeconomicforum Crystal Award with @idriselba for our work as UN Goodwill Ambassadors for @ifad_org. Idris and I are so proud to be part of the collective fight towards global food security."
Idris, who is arguably one of the most versatile actors of his generation, was born and raised in the United Kingdom to a Sierra Leonean father and a Ghanaian mother.
He began his career on the small screen in some of the UK's top-rated shows and later landed the role of Stringer Bell in HBO's critically acclaimed series The Wire, which garnered an NAACP Image Award nomination.
He has starred in several top films and is also active in a number of charity projects around the world.
Related Topics