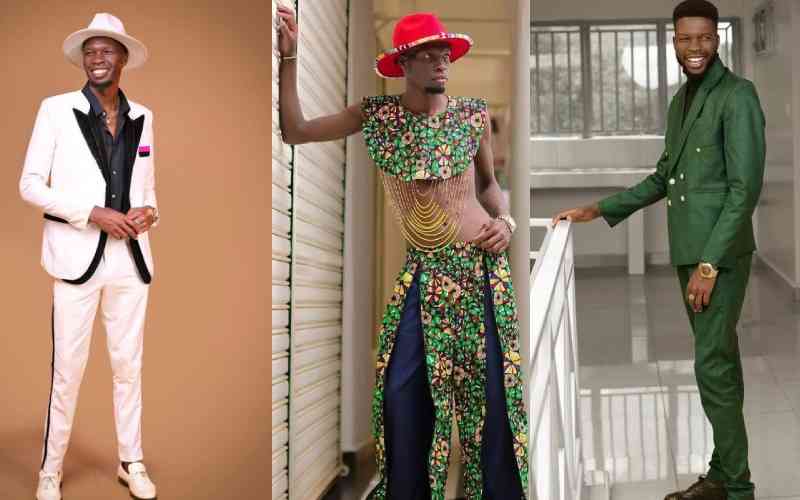 Celebrities have taken to social media to mourn fashion designer and model Edwin Chiloba, whose body was found inside a metal box on January 4, 2023, along the Kipenyo - Kaptinga road, Kapseret, Uasin Gishu County.
A look at his Instagram account depicts a man who loved life. In his last post, Chiloba recapped the year that was, 2022, highlighting some of the lessons he learnt.
"I have learnt not to give up and to accept the mistakes you have done. I have a big dream to see my works showcased in New York and to be a big fashion icon.
"I intend to build my brand in 2023 and inspire people to be the best version of themselves. I love to see people doing what they love, spreading love," he said.
View this post on Instagram
Following his demise, CEO and Founder of Bold Network Africa, Chris Makena, recalled the moments they shared, describing the incident as a tragic loss for the queer community.
Makena said it was a 'hate crime' with 'homophobia written all over it' and called on authorities to hasten investigations and bring his killers to book.
"If anyone met you or spoke to you what they would probably say is that you were light and love. Edwin the news of your brutal death sent chills down my spine.
"You didn't deserve that pain; you didn't deserve to die. This is a hate crime it has homophobia written all over it and it sickens me that this is how we start this year. Yet another tragic loss for the queer community in Kenya, a country we should call home.
"You had so much love to share with the world Edwin. I am in pain, I am numb. I cry for your closest friends and family who experienced your love even closer may they find peace in this moment. How many queer people have to die for this to stop? When will our government stop seeing us as a non-Issue and put up laws that protect all of us from such hate crimes? How many people do we have to bury for this nation to stop and listen to queer people? Edwin you fought so hard, loudly and boldly for the many that we lost. We will fight for you. Rest easy my friend, rest now Angel."
'They' also called upon politicians to walk with queer people in an effort to put an end to their suffering.
Michelle Ntalami, who was lauded by the deceased in his last video, also expressed sadness at losing a friend who constantly supported her brand.
She thanked Chiloba for always spreading love and standing out for the right qualities.
"I can't believe it! Why Edwin? He'd never hurt anyone! Always showing love and moving with love any chance he got. The world has lost the sweetest soul. I've lost a friend…
"To imagine the pain, darkness and torture that you went through in your last moments breaks my heart into pieces. You embody love and the served you hate. May justice prevail. Thank you for your friendship," she wrote in part.
View this post on Instagram
justjoykendi: I'm still in shock…. May your beautiful soul Rest In Peace
_denniskaruri: You have truly been a blessing Edwin. Shine on your way beautiful soul. I can only imagine what you went through, but all in all, your existence has left a mark. You made a difference and I was really anticipating working with you. Death is a promotion to GLORY… Go be awesome with the rest of the beautiful souls that God created
Kambua: Oh my heart
Kate Actress: I am sorry my friend
Fenamenal: oh you sweet sweet soul. Smile on us in heaven
notiflow: Wtf?! We literally spoke the other day
susankaittany: Beautiful soul you made a beautiful mark in this world
Related Topics