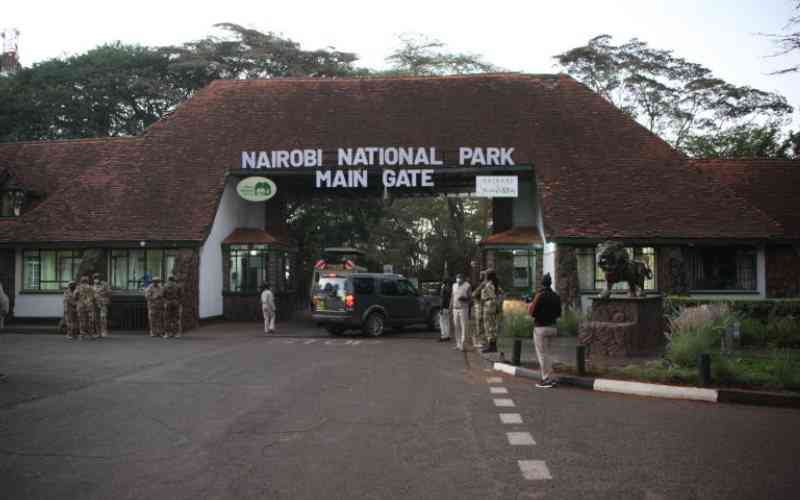 A 15-year-old suspect who jumped over the Nairobi National Park fence to evade arrest has been nabbed.
A statement by the DCI revealed that the suspect was pounced upon by rangers from the Kenya Wildlife Service after a six-kilometre chase that started along the Southern Bypass and ended inside the park.
It was reported that the teenager, who had taken cover at a thicket near the park's perimeter after a dramatic chase by officers from Akila Police Station, ran deep into the park upon seeing KWS rangers coming his way but he was cornered.
"As the determined officers from Akila Police station were pondering their next move along the electric perimeter, rangers from the Kenya Wildlife Service who had watched the chase from the top of their surveillance vehicles came to their aid.
"In the ensuing melee, distraught warthogs and hares scared from their hideout were seen scattering in different directions, as the rangers went after the suspect...Luckily, the boy was finally arrested and handed over to the duty officer," tweeted the DCI.
The suspect, who hails from Kibera, then led police officers to a spot near Wilson Airport where had hidden a knife that he used to carry out criminal activities.
Police officers also stated that prior to the chase, sleuths on patrol along the Southern Bypass had noticed a melee after which the suspect fled.
This is after the boy was positively identified as the suspect behind an armed robbery where one Abdullahi Maohamoud lost his phone and other valuables near South C.
The suspect is currently in custody and the DCI has called upon the public to share any valuable information that could lead to the arrest of notorious gangs terrorising unsuspecting residents.
Related Topics