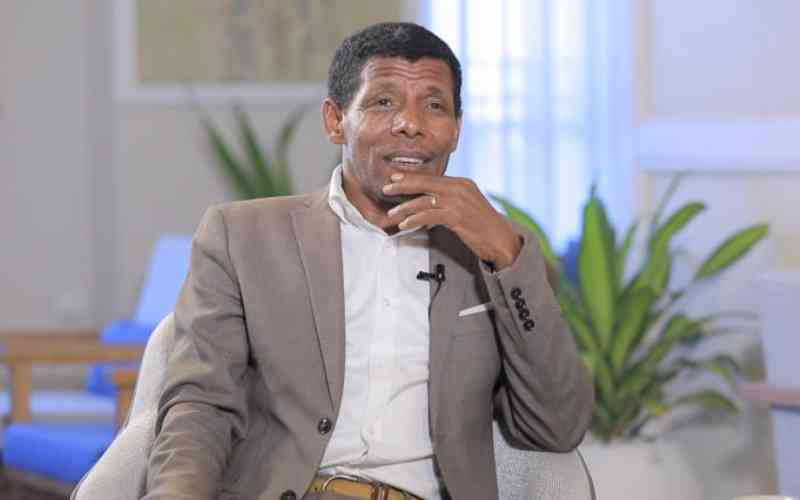 Ethiopia's athletics maestro, Haile Gebreselassie, can be compared to the late John F Kennedy, the 35th President of the United States of America.
He's innovative, astute and blessed with a popular touch and political intelligence that's a stark contrast to his humble personality.
Haile harbours lofty dreams and is always ready to learn from his mistakes and expand his business empire despite his modest education –having endured childhood hardships in his rural home in Assela in Ethiopia.
And he can be equated to the late John F Kennedy, who became American President but had Irish roots.
At 49, Haile remains athletic. "My day starts at 5am. I start with gym training and work at 7:30am. It depends, mostly after 5pm I have to visit the construction site but I have to be at home at 7pm no matter what.
"This is family time between 7pm and 9pm. During the day they are in school. I wouldn't say I like getting invited for dinner. I love getting invited to lunch.
"My elder daughter is 25 years old. I am a father of four; three girls and a boy," he says.
He is married to Alem Gebrselassie and they have four children Eden, Melat, Bete and Nathan.
"My elder kid plays a bigger role in the company and the second born in Toronto, Canada, and will graduate in two years. The boy is 17 years old and in high school. I don't just leave my children to my wife. My children strongly believe in their father. I take them to school. I have to be very close to them.
"My wife helps a lot in our family business. You know behind a successful man, there is always a woman," he says.
Haile is an athlete of high repute. Sample his calling card: two-time Olympic champion, multiple world champion and world marathon record holder.
During his athletics career, he broke 61 Ethiopian national records ranging from 800m to marathon and set 27 world records.
"I have many trophies and not all are in Addis Ababa but some are at home some 20 kilometres from the capital city. Not less 400 competitions I competed and won 90 per cent and of course those I dropped out –just two marathons.
"Olympic is a special medal with Paul Tergat. That medal is really special. If there are two gold medals then two of us should have shared it out. That medal does not belong to me. It belongs to me and Tergat," says Haile, now the President of Ethiopia Athletics.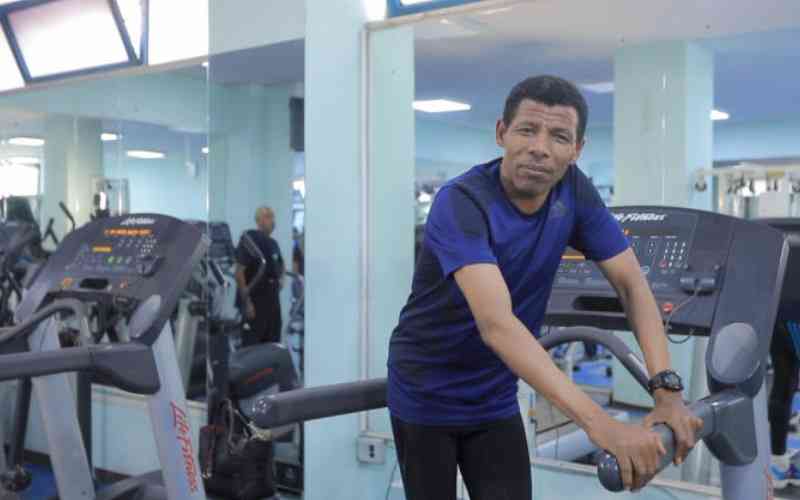 The sprint for the line in the Sydney Olympics 10,000m in 2000 was the defining moment of one of sports' greatest rivalries.
It stands out as the closest and finest race in Olympic history. Haile won by the thickness of his vest.
Gebreselassie won his second Olympic gold medal in a time of 27 minutes 18.20 seconds. Tergat won his second silver in 27:18.29.
Other than empowering ordinary folk in Ethiopia by providing employment, Gebreselassie also empowers Ethiopian athletes by organising races. He is the brain behind the Great Ethiopian Run, an annual 10km road race held in Addis Ababa that attracts up to 45,000 participants.
"Youngsters follow what you do. Most of us excelled from nowhere. I was born in the countryside and started admiring top athletes. I developed a keen interest and the rest is history. We need to manage everything including life after making good money. The money should not run faster than you. And the bottom line is investment," he said.
He has many titles and he is two-time 10,000m Olympics champion, four-time world 10,000m champion, four-time World Indoor champion in 3,000m and 1,500m, and World Junior champion in 5,000m and 10,000m. He also won the World Half Marathon champion once.
He also has a fair share of disappointments. "Right after the Atlanta Olympic Games in 1996. I lost a race to Daniel Komen in Zurich. He was in top shape. It was a big shock and my then fiancée (now wife) shed tears. It was a painful loss. I told Alem come on, this is not the end of the world."
Haile says the biggest mistake most sports persons make is to plan retirement. "It does not work out in sports. In 2003, I dropped out of the New York Marathon. This was after serious preparations. I was disappointed. The media interview after the race was intimidating to all journalists wanting to field questions after I announced my withdrawal. I never expected to be invited to the press conference."
To keep fit, Haile says he still does long runs of 20km weekly and maybe eight kilometres daily in the morning.
On investment, Haile says, athletes must utilize the huge dollar payouts in races.
He runs successful businesses in hospitality, agriculture, education, real estate and motor vehicle dealerships in Addis Ababa.
"I started the hotel business 22 years ago. The idea came after I visited so many places and decided to give the hotel industry a try. Athletes must think; not once but twice.
"I decided to build the hotel and it has stretched into a big company. At the moment, we have 3,700 employees. I have a 6500 hectares of coffee farm. This is the number eight hotel and real estate. There are big business opportunities in Africa and even outside. I want to do business outside Ethiopia."
His love for movies and cinema. "It is a very profitable venture. I decided to build my first cinema in Addis Ababa. We have found our talents not only in long-distance running.
We have our own school for training. We strive to ensure that everything is locally sourced.
South Korean motor vehicle manufacturer Hyundai runs an assembly plant in Ethiopia. It is Hyundai's first plant in the East African region.
Haile is one of the business partners in the assembling venture. He says the plant will produce passenger hatchbacks and trucks. The company expects to roll out 10,000 vehicles annually.
Despite having modest academic qualifications, Haile believes that he has what it takes to run a successful business.
"I just finished high school. I read a lot of business books and every time I meet business experts; I always ask questions. I can't say I am perfect but I keep trying. I don't a situation whereby when I die the investment fades away. I also strive to create jobs," he said.
Haile says world marathon record holder, whom they were both managed by Dutchman Jos Hermens of Global Sports Communication. "I love Kipchoge. He's a very disciplined athlete. That is how sports persons ought to conduct themselves," he adds.
Related Topics