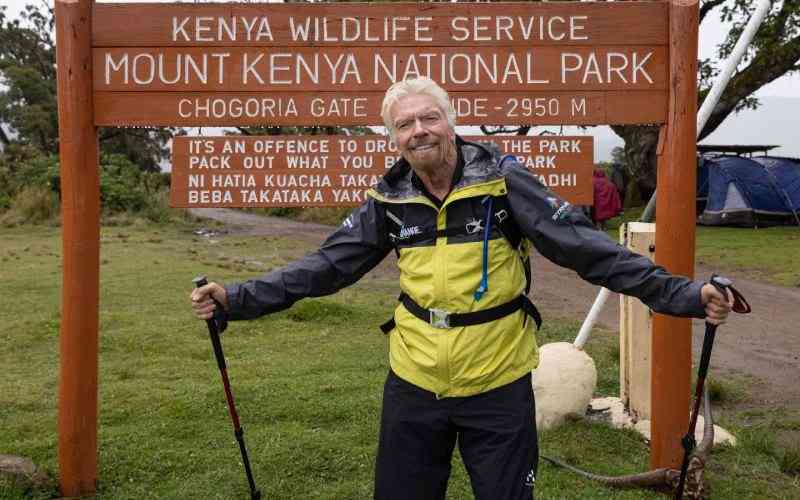 British entrepreneur and businessman Richard Branson quietly climbed Mount Kenya, Africa's second tallest mountain.
The business magnate, who loves adventure and has scaled Mont Blanc, the Matterhorn, Mt Etna and Mt Toubkal before, was in the company of his son Sam and nephew Noah as they sought to raise funds for Big Change, a charity to transform education.
Branson thought the climb would be smooth but to his surprise, it turned out "pretty brutal".
He documented the journey in a blog, describing the soggy ravines and water bodies that made the trip more enthralling, revealing that some of his colleagues did not make it to the summit due to exhaustion.
"As we climbed higher, the altitude made breathing tough and sleeping even harder. There was freezing cold, driving rain and sleet. There was not as much snow as there used to be, due to climate change.
"Some strivers didn't make it to the summit due to altitude sickness and sheer exhaustion. They showed incredible bravery to make the right call and walk more than 12 hours down the mountain through the night in the perilous conditions," he said.
What on earth am I doing here?
Branson added that there were moments he regretted going up in the first place but he had to soldier on, maintaining a positive attitude throughout despite the tough conditions.
They finally got to the summit! It was rewarding. The sun was out, as if to applaud them for their efforts. It was a proud moment but there was a problem, they had to go back down.
He was exhausted and struggling but despite being some distance behind the group, the businessman had the end goal in sight. He quickly switched his shoes and raced down the mountain.
His son Sam was still a few yards ahead of him as they got to the finish line but it did not matter, the objective had been achieved.
Branson thanked all those who made the adventure possible, admitting he was already looking forward to his next outing.
"So many people helped make this adventure happen, and I know the funds raised for Big Change will make a huge difference to education reform (our last Strive event in 2019 raised £1.46 million for Big Change).
"Every evening we had inspiring discussions about how to make education for life, not just for exams. Sam says starting Big Change is the thing he and Noah are most proud of, and I can understand why. There is a long way to go, and I'm sure we will keep Striving to make a difference. I'm looking forward to the next adventure already."​
Related Topics