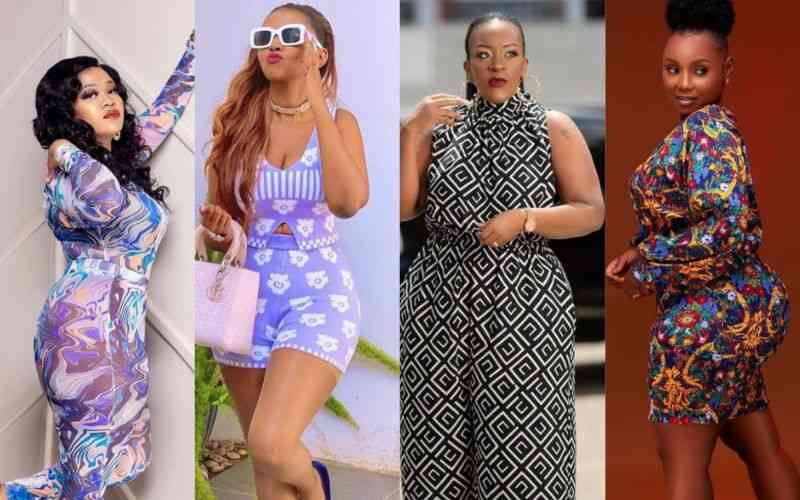 Early this week, popular social media personality Vera Sidika set the local internet circles ablaze with claims that she has lost her curvy figure after cosmetic surgery gone wrong.
The influencer left jaws dropped after she posted pictures on Instagram looking a lot different from how we are used to seeing her. Dressed in a multi-coloured, body-hugging jumpsuit and high heels, Vera had turned her back on the camera to showcase a much leaner body frame, her curves almost completely gone.
"The rebirth...this has been the hardest phase in my life. Due to health risks and complications, I have had to undergo surgery. It is still very unbelievable but I have come to terms with it and learnt to love myself regardless," she captioned the post.
And her 2.3 million followers were taken aback by the news. It was confusion. In the wake of the clout-chasing phenomenon by Kenyan celebs, many questioned the influencer on whether this was true or just a stunt.
Lots of other fans were sympathetic to Vera, who noted in her post that the change "has been pretty hard," and that she "did not even celebrate her birthday this year."
"I will be posting my surgery journey videos here, for those who have been thinking of getting booty surgery or changing anything in their bodies this might change your mind," she wrote.
And she doubled down on her revelation by chronicling titbits of hospital visits and surgery preparations on her Instagram stories.
"The side effects and risks of butt implants and surgeries do exist. The complications are unbearable. Some people do not make it out alive. Some are lucky enough to survive it. Ladies, do not ever do this to yourselves," she wrote in one post.
As pop culture enthusiasts keep a keen eye on her daily updates, perhaps they might notice a trend in the influencer landscape. Many popular personalities have been transforming their bodies over the past few years. Whether it is through going under the knife or adopting a healthy lifestyle, a recent craze has been changing one's body altogether.
We all have varying dream bodies and fitness goals, although different cultures often affect preferences and influence what will be the trendy, sought-after physiques at a particular time.
The award-winning actress Catherine Kamau, popularly known as Kate Actress revealed in May that she had undergone a cosmetic procedure called a gastric balloon.
She said that she intended to lose weight, tone up and feel more confident as she takes up new acting roles in future.
"Did you know that obesity causes more than 60 diseases according to WHO? I knew I had to make better choices for myself when I checked into a health facility, and I was declared class one obesity bordering class 2. To be honest I had let myself go. If msichana mrembo appetite ya fundi wa mjengo was a person...," Kate wrote on Instagram at the time.
According to Kenya Laparoscopic Surgery Services, "a gastric balloon, also known as an intragastric balloon or belly balloon, is a soft balloon that is inserted into one's stomach through the mouth using an endoscope, non-surgically. It is an endoscopic treatment for obesity that together with a balanced diet and physical activity helps lose weight."
View this post on Instagram
And before the actress' revelation, another popular personality, content creator Murugi Munyi said that she had a liposuction procedure done.
The influencer, formerly known as Yummy Mummy KE said that she had the cosmetic surgery done in pursuit of a body she could feel more confident in and as a treat for herself.
"I decided to go for the lipo because I had the money and also it was my birthday treat. As human beings, we work so that we can afford the things we want. You work for it or you also pay for it. These things can go concurrently. It was just under Sh600,000," she said in an interview with a local radio station in February.
According to the National Health Service, Liposuction is a cosmetic procedure used to remove unwanted body fat.
"It involves sucking out small areas of fat that are hard to lose through exercise and a healthy diet. It is carried out on areas of the body where deposits of fat tend to collect, such as the buttocks, hips, thighs and tummy, NHS notes, adding that, "the aim is to alter body shape, and the results are generally long-lasting."
View this post on Instagram
Way before then, Keroche Breweries' multimillion heiress and businesswoman Anerlisa Muigai was offering weight-loss inspiration for her fans after reportedly losing 60kgs, transforming completely.
The 34-year-old has been open about her journey, where she said that she cut the kilos by following a strict diet plan and getting active.
She has however had to fight off the trolls through the years, who refuse to believe that no surgery was involved.
View this post on Instagram
Over in neighbouring Tanzania, actress and media personality Wema Sepetu is another public figure who has lost a lot of weight and raised eyebrows.
She has revealed in a past interview that she lost over 25kgs by "watching what she eats."
She noted that she changed her lifestyle in her quest for motherhood after doctors advised her to lose weight to improve her fertility.
"Sijawahi kukataa utumbo wangu kama watu wanavyosema, kwenda kwangu India ilikuwa ni kwa ajili ya matibabu ya tumbo langu. Alafu coming back ma daktari walinimbia kuwa I need to lose some weight, coz sometime kizazi kinakuwa kinasaraundiwa na a lot of fats, which makes it impossible kushika mimba," Wema said.
View this post on Instagram
On the international front, Reality TV stars Kim Kardashian and her sister Khloe have caused a stir over the past year for having drastically lost weight, even losing their once curvy frames and sizeable derrieres.
"With personal chefs, a state-of-the-art gym in her own home, and a bevvy of personal trainers, billionaire Kim declared she lost 16lbs (7kgs) in just three weeks to wear Marilyn Monroe's famous crystal embellished Jean Louis dress at the Met Gala back in May," UK's Glamour Magazine reported.
View this post on Instagram
Glamour added: "While, on the whole, we are growing more aware of discussions around celebrities' weight online and left toxic body-shaming tabloid covers back in the noughties, TikTok is still rife with divisive videos about Kim's body."
CNN questioned the idea that a "smaller body must be healthier" in its August report, Is losing weight an important health goal?
"Advertisements, pop culture and even doctors can talk about health and weight as if they are the same: smaller bodies are healthier, and larger bodies must be unhealthy," the report noted, adding, "But neither health nor bodies are that simple and uniform, and health can vary from person to person."
It added, "Experts say that it may be time to untangle health and weight and focus more on behaviours that promote our health than the number on the scale."
Related Topics