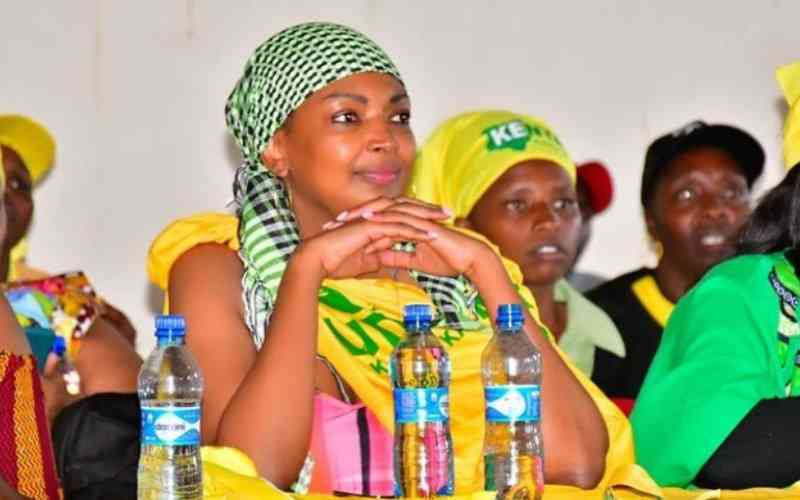 Controversial city lawyer and politician Karen Nyamu has disclosed that she has started dressing decently in efforts to attract a potential man who will marry her.
Speaking at a function in Nyandarua county, the mother of three, who was in a dera and had covered her hair with a scarf, added that she is ready to settle down should she find the right man.
"Today I have wrapped up myself top to bottom to try find someone to pay my dowry, si nikujipanga (plan yourself)" she said amidst cheering from the crowd.
Over the years, Karen Nyamu's relationship with Mugithi star Samidoh Muchoki has been a topic of interest amongst netizens.
Nyamu and Samidoh have a son together - a situation that was initially complex as the Mugithi singer is a married man.
In November last year, Samidoh hinted that the two were just co-parents while opening up about his links with Nyamu on an interview.
"She is the mother of my child. Life has taught me that when you find yourself in a hole stop digging. Stop figuring out how you will get out," the artiste said, adding, "People assume they know everything about me. I do not need to explain myself, whatever people want to assume of me they are free to do so."
Just over a month ago, Nyamu took to social media to celebrate her baby daddies, terming them unproblematic.
"Today is Father's Day. And even though im not married (yet) my babies are lucky as can be to have the most loving, most generous, most unproblematic dads.
"Thanks for loving my babies, thanks for being there. You are appreciated, and what you do no one else can do. I pray that you be so successful and wealthy, so that Karen Nyamu ashindange Maldives "kupeleka watoto"," she said at the time.
Related Topics