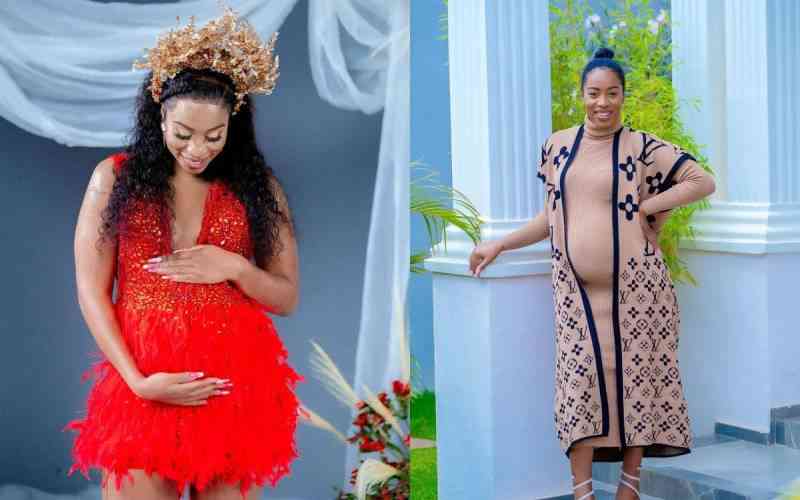 Popular content creator turned rapper Diana Marua said she never expected her current pregnancy. While sharing the revelation with her fans through YouTube, Diana opened up to her sister Michelle, whom she told that the pregnancy was unexpected, insinuating that perhaps she also never planned for it.
"I feel like I have suffered for long. I've gone through so much, kutoka hizo time nilikuwa sick and all that. I feel like I got into depression," she said.
View this post on Instagram
According to her, she has now accepted the pregnancy despite being in denial for a while. However, she added her current pregnancy had not been a smooth journey compared to her previous pregnancies.
"Ilikam unexpectedly. Out of the blues, this happened. But I think saa hii niko Kwa space ya 'I accept it'. I was in denial, like I didn't believe that this happened and I felt like I could not share it with anyone," she added.
Diana and her husband, musician turn politician Kevin Bahati announced they were expecting their third child together a week ago. The couple shared the news in style by releasing a new music video dumbed Nakulombotov where they express unconditional love towards their unborn child.
In the music video, the two pamper the unborn baby with sweet words, assuring that they will work hard to ensure that it gets the life it deserves.
"Nakutamkia Baraka, nakutakia fanaka, tolea sadaka nyota yako itawaka. Nakutamkia nehema isiyokuwa na mipaka, Maisha mazuri, uishi mamiaka. Maugonjwa na mikosi na zikae mbali. Malaika wakulinde," Diana sings in part.
View this post on Instagram
Diana recently revealed that her children burst into tears of joy when she finally told them that she was expecting.
"Weeeeeeeuuuuuuhhhh, tears were too much in today's video of my Pregnancy Series, Episode 4. My son @Morgan_bahati couldn't hold his tears when he learnt that Mummy is having baby number 3 on the way. I decided to tell my Nannies, my sister @glamby_varl and my kids about the new blessing and saying their reaction was PRICELESS is an understatement!!!" she wrote.
Related Topics