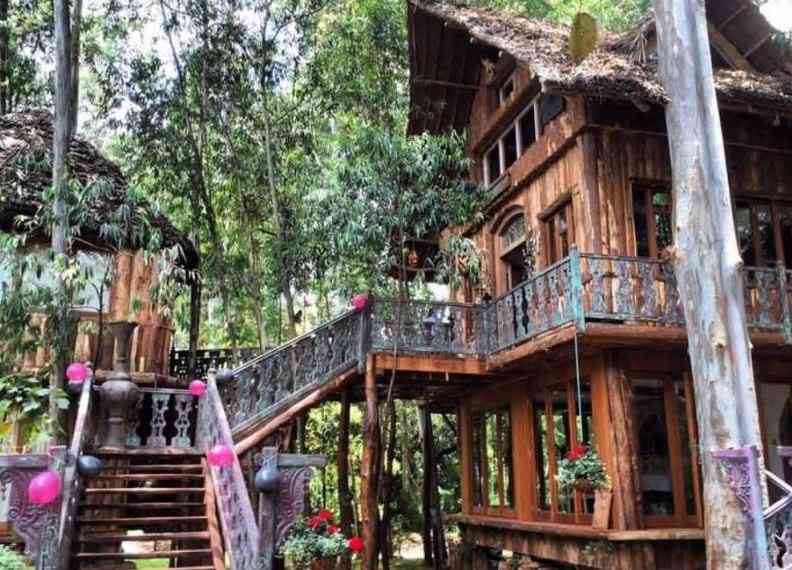 Nestled in Karen amid breathtaking views of the Ngong forest is the Nairobi Tree House. Born in New York to an Egyptian father and an American mother, the owner of the Tree House Jonny Dwek moved to Kenya in 2005.
When it was time to build, he knew he wanted an unconventional house that allowed humans, animals and nature to live in harmony. The house embraces its beautiful surroundings, taking full advantage of the vista that the site affords. Trees, for instance, grow through different parts of the house, providing tranquilising effects.
Dwek expanded the house organically, building cottages that are Star Wars - and Tarzan-inspired for his children.
Dwek purchased the land six years ago and used local materials to build the treehouse with the help of artisans from the coast. They used mango poles, famed for their sturdiness and inability to rot, to hold up the structure and makuti for the roof. All the doors, which are Arabic-inspired, were made locally save for one that he imported from India.
Dwek studied art and business in London and builds and designs houses that he describes as "artisanal" or "works of art." He has also curated several art shows in Nairobi and supports artistes on his Instagram page, Elevation.
One gets his keen eye for design and his love for art the moment one walks inside the tree house. Dwek describes his style as shabby bohemian chic. Trap doors and ladders used to access rooms add a sense of adventure.
The main entrance that boasts an antique, Arabic-style door with a French head leads to the living room and kitchen, a high-ceilinged space that has a traditional chimney and wooden floor. Egyptian paintings inherited from his father adorn the walls and are evidence of the family's passion for collecting. Quite striking is the heirloom chandelier that hangs from the makuti ceiling.
A wooden library that can only be accessed with a ladder hangs just below the ceiling and occupies the whole width of the house. The kitchen area leads to the TV room, a space that Boho chic enthusiasts will fall in love with: mood lighting and clever layering of textures and colour give the room a fairy-tale appeal. Inviting leather sofas with Moroccan cushions beckon guests to sit back and take in the art in the space.
Here, a trap door leads to the dining room downstairs and a ladder provides access to the loft where more inherited paintings and sculptures add interest.
Dwek's bedroom overlooks the forest and a nearby river. Large, Indian-inspired arch windows give the space an airy feel, and adding even more character to the space are hand-made Moroccan-inspired light fixtures. [Nailantei Kenga]
- For more, watch Art of Living on KTN Home this Sunday at 6:30 pm.
Related Topics