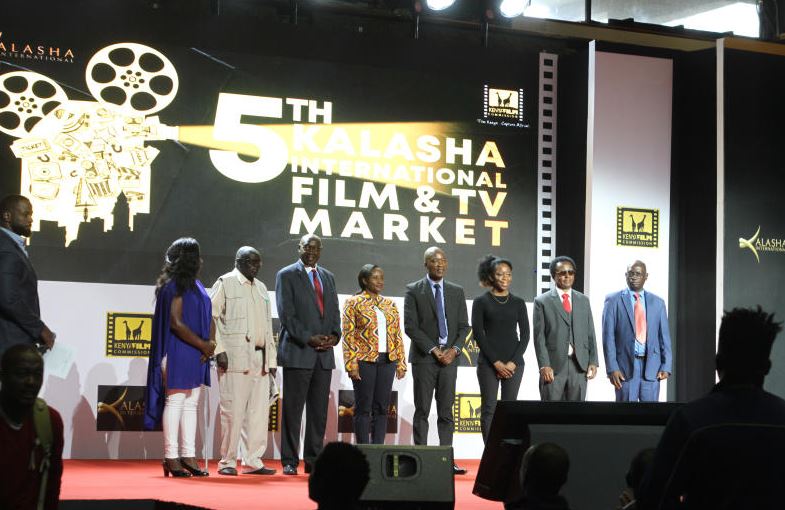 Kenyatta International Convention Centre (KICC) is playing host to the fifth edition of the Kalasha International Film and TV Market festivals after a two-year break.
The outbreak of Covid-19 around the globe led to the cancellation of major entertainment events including the Kalasha festivals as a way of containing the spread of the deadly virus.
Even the mega international galas such as the Oscars had to be held virtually with film makers canceled their productions in a bid to comply with Covid19 restrictions.
But after the relaxation of the containment measures, regional and international producers, content creators, directors and scrip writers have come out of the woods and have all converged at KICC to gather, exchange ideas, collaborate, share stories and develop new business opportunities.
Some of the organizations represented are the KwaZulu Natal Film Commission (South Africa), Africa Uncensored (Kenya), Showmax Africa, French Embassy, Film Crew Africa and Kenya Film Classification Board, among others.
There are also side events such as the trade show, workshops, coaching and pitching sessions.
The extravaganza that started on Friday ends today. The theme for this year's Market is, Film Business: The Economics of content creation in the digital era.
"The Film industry has significantly been transformed over the years and, the nature of production, distribution and exhibition is not what it was," said Timothy Owase, the Kenya Film Commission CEO.
"The demand for local content is growing every day and our work is to empower content producers and empower content buyers to get the end product affordably so that the industry can create many jobs to the youth," he said.
Owase said they are in talks with content creators to explore the possibility of opening up the African market so that content producers can sell through co-production treaties in a bid to make the film industry a viable business.
Against this backdrop, Information and Communication Technology Cabinet Secretary Joe Mucheru said the ministry's strategic intention is to sustainably grow the film industry through the strengthening of existing institutional frameworks and increasing the production of films in Kenya through the active involvement of film industry stakeholders.
He said that with a vibrant Film and TV industry, the industry will be more alive offering increased job opportunities and sustainable wealth creation for industry professionals and the youth.
The Cabinet secretary said the government has since signed a Memorandum of Understanding (MoU) with the global streaming giant Netflix.
"The Market's main objective is to encourage growth and creativity in content creation. In this edition, I urge all filmmakers and stakeholders to come and engage and also interact with experts in the Film and Audio-Visual industry from Kenya and across the world," said Mucheru.
He added: "This market offers a unique opportunity for participants to learn and share as they discuss issues revolving around content creation, animation, policy, and technology. Cultural events such as the Kalasha Market, enable direct exchanges, and dialogues among experts within the sector and also offer an opportunity for learning for the up-and-coming film makers."
Related Topics