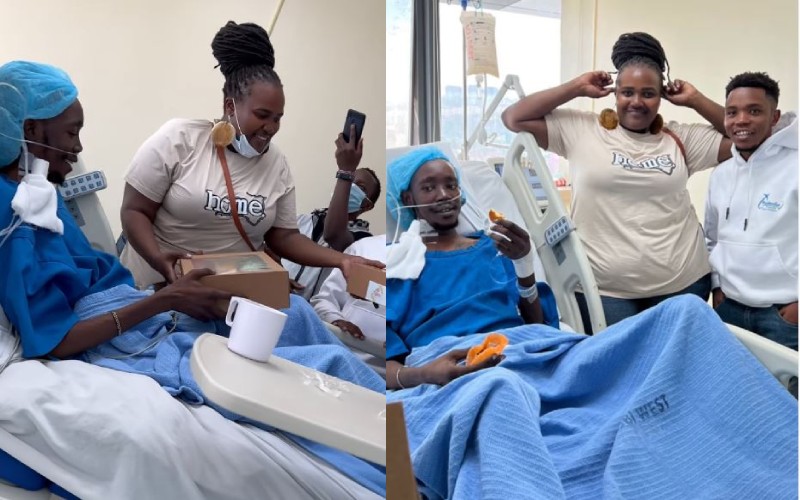 Kenyan actress and digital influencer Sandra Dacha this week surprised comedian Akuku Danger in hospital to celebrate his birthday.
In the company of friends and fellow thespians, Sandra handed over boxes of well-arranged cupcakes to the ailing Akuku and wished him a speedy recovery.
"We couldn't let this day pass…despite being ill, we had to cheer him up kidogo. HAPPY BIRTHDAY @itsakukudanger and SPEEDY RECOVERY," wrote Sandra on Instagram.
In a phone interview with Standard Entertainment earlier this week, Akuku declared his love for Sandra, thanking her for her selflessness throughout his recovery journey.
He admitted that there have been challenges along the way but their love has remained steadfast.
"Finding someone who can be by your side through thick and thin is not easy. Sandra was there for me throughout… Taking care of me in hospital and ensuring all was well. I love and appreciate her for that. Most people would have left. We have been together for 7 months and yes she is mine," he told the Standard.
Akuku has been living with sickle cell anemia since childhood and in recent months he has been in out of hospital due to breathing complications.
Asked about going back to what he does best, comedy, the Churchill Show comedian said he will bounce back as soon as doctors give him a greenlight.
"Comedy and events are the two things I do to put food on my table. I love doing them. As soon as the doctors give me a clean bill of health I will make my comeback," he said.
View this post on Instagram
Related Topics