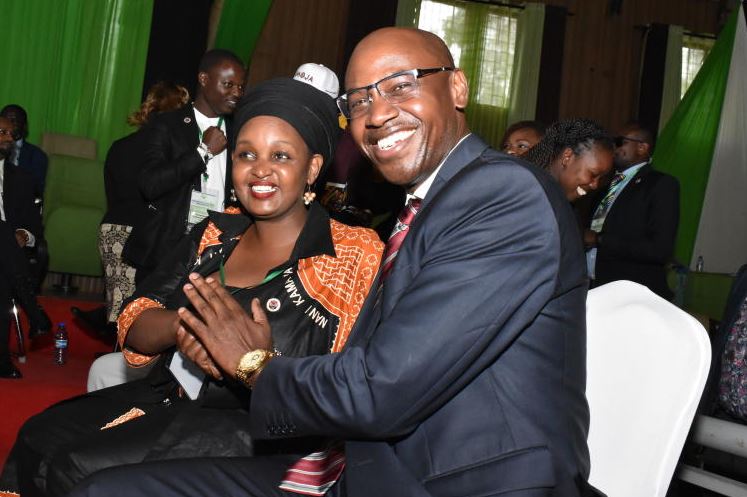 Former comedian Mr Walter Mong'are alias Nyambane set out to crush his own joke when he became the first candidate to be cleared by the electoral commission to run for president in the August polls.
While some presidential hopefuls, including a sitting governor, were crying for being locked out of the race, Mr Mong'are was laughing as he left the Bomas of Kenya, and even found time to stage a mimic act on late President Daniel arap Moi.
"Mlisema Moi hatarudi, (You said Moi would not return), I am back," he told journalists at Bomas of Kenya, where the Independent Electoral and Boundaries Commission (IEBC) cleared more hopefuls.
Mr Mong'are launched his acting career through the mimicry of Moi's ways in early 2000s. He was part of Reddykyulass, a three-man comedy act that revolutionised political comedy, ushering a new era in Kenya's entertainment scene.
The other two were Mr Tony Njuguna, an advertising creative, and Mr John Kiarie, now Dagoretti South MP. In the last five years, Mr Mong'are has been working at the President's office as an advisor. "I want to tell my boss, President Uhuru Kenyatta, that this is not a competition between me and him. I am just trying to be what he has always taught us, to be a good leader, and to go back to State House," he said yesterday. He said "the Moi thing" was not merely "a comedy thing" but a symbolic attribute of what was always in him; a leader.
Before working at the Office of the President, Mr Mong'are had brief stints at KBC as head of programmes, and Kisii County government as head of communications. He also previously worked at Kiss 100 as breakfast show host alongside Ms Caroline Mutoko.
Mr Mong'are also churned a number of hits, including "Sweet banana" under the name "Baby J Nyambs" featuring Talia Oyando.
In the run-up to the 2007 General Election, Mr Mong'are's Reddykyulass crew, True Blaq entertainment of late Kevin Ombajo and Institute for Education in Democracy (IED) teamed up to carry out "Vijana Tugutuke" campaign to impress young people to turn up to vote.
Lawyer Dr Koki Muli, who led IED, says she is proud to see Mr Mong'are live the "gutuka dream". "I can't even begin to tell you how impressed I am, how happy I am. When we started Vijana Tugutuke, there was very little involvement of young people in leadership. He has finally lived the message, by transforming a dream into a reality," Dr Muli said yesterday.
Mr Mong'are will be running on Umoja Summit party, which has a symbol of a pot.
Earlier on, while launching his bid, he said he was inspired by the exploits of wartime President of Ukraine Volodymyr Zelenskyy, a former comedian.
"He (Zelenskyy) imitated the president and he became one. I imitated the President and I, too, am becoming," said Mr Monga're, to applause from supporters at the launch.
Several other aspirants were cleared for MP and county assembly seats in IEBC offices spread across the country, while others were turned away. Keroche Chief CEO Tabitha Karanja, who is vying for the Nakuru Senate seat on UDA, was scheduled to be cleared in the afternoon.
Nakuru County Returning Officer Mr Joseph Mele said that Mr Daniel Kimani of Ford-Kenya was not cleared. "We've given Kimani more time to present a cheque for the required Sh50,000. He had presented a cheque of a lesser amount charged on people below the age of 35."
Sotik MP Mr Domnic Koskei, after being cleared to run as an independent candidate, said UDA nominations in April did not reflect the will of the people. "What happened is unacceptable and August polls will speak the truth," he said.
He appeared before Sotik IEBC Returning Officer Mr Keneth Char an hour after UDA nomine Mr Francis Sigei. Mr Sigei said he won the nominations. "I'm not afraid to face him a second time; this time it is not going to be a slim margin," he said.
In Konoin, Mr Brighton Yegon was cleared to run on UDA and Mr Sammy Koech as an independent.
In Bomet central, Mr Richard Kilel will be flying the UDA party ticket and Mr Collins Ng'etich the CCM one after.
In Chepalungu, CCM's Mr Victor Koech and UDA's Paul Bii were cleared at Sigor trading centre.
Senate aspirants Mr Hillary Sigei (UDA) and Mr Wesley Korir (ANC) were also cleared.
In Kisii, Jubilee senate aspirant Mr Omingo Magara got his certificate, while in Bonchari Constituency, Mr Charles Mogaka (UPIA), Mr Cliff Ombeta (UDA) and Mr Zebedeo Opore (Jubilee) received certificates. The three urged their opponents to conduct peaceful campaigns.
Rarieda MP Otiende Amollo and Gem's Mr Elisha Odhiambo were given a go-ahead to defend their seats.
In Homa Bay, former Rangwe MP Mr Martin Ogindo, who is eyeing Homa Bay Town MP seat on Green Congress of Kenya, was cleared.
Lawyer Mr Humphrey Obach, who is eyeing the seat as an independent candidate, was cleared too.
In Ndhiwa, former MP Mr Agostino Neto was cleared and he expressed optimism in his bid to unseat Mr Martin Owino. Despite the process having technical hitches, a number of leaders, including Rongo MP Mr Paul Abuor, Nyatike MP Mr Tom Odege, former Suna West MP Mr Joseph Ndiege and Mr Jared Kwaga, an Uriri MP aspirant, presented their papers on Monday an were cleared.
Yesterday, Migori Senator Ochilo Ayacko, Awendo MP Walter Owino, Suna East MP aspirant Elijah Odhiambo, Uriri MP Mark Nyamita, Suna West MP Peter Masara and Rongo MP aspirant Nelson Oluoch were cleared by the independent body.
County Senatorial seat in the August polls. Taita-Taveta County IEBC Elections Manager Eisha Oshan cleared six senatorial candidates.
"I have cleared six candidates. All have met the legal and education requirements to vie for the Senate seat in the forthcoming general election," confirmed the IEBC boss.
Those cleared included incumbent Senator Mr Jones Mwaruma (ODM), former Wundanyi MP Mr Thomas Mwadeghu (Wiper party), and lawyer Mr Stephen Odiaga (Muungano party), Mr Stephen Saleka Njumwa (ANC) and former Wundanyi MP Mr Mwandawiro Mghanga (Communist Party of Kenya (CPK). Others were Sagala Ward Rep Mr Godwin Kilele (Jubilee) and Mike Banton (Independent).
- Olivia Odhiambo, Eric Abuga, James Omoro, Sharon Owino, Anne Atieno and Renson Mnyamwezi
Related Topics