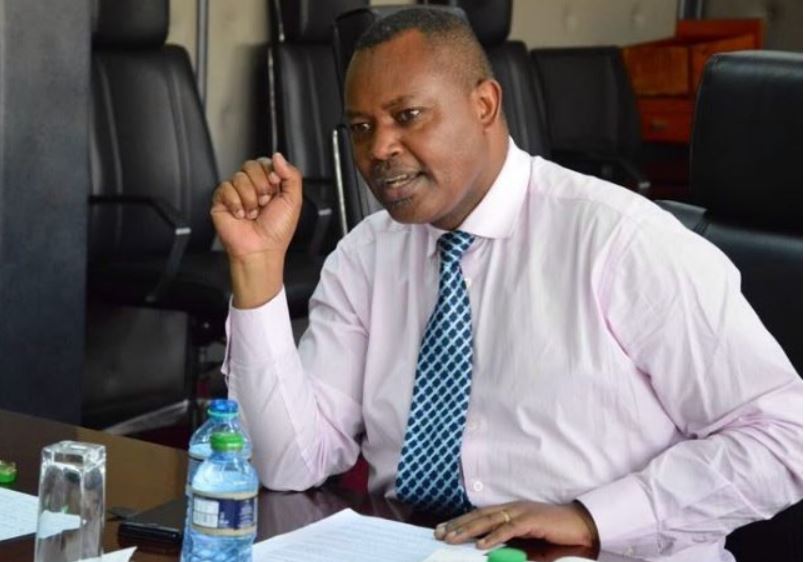 Kenya's top criminal cop, Directorate of Criminal Investigations head, George Kinoti, has lived at a police line since 2003 when he was appointed as a personal assistant to then CID Director, Daniel Ndung'u.
When he took over the mantle of DCI Chief in 2018, the expectations were that like his predecessors, he would move out to a bigger house befitting his new status.
To the surprise of many, he did not. Kinoti says it has something to do with his upbringing.
"When I remembered Major's counsel, I made a decision never to shift from the house that was allocated to me as a junior officer, but to instead stay with my fellow officers," says Kinoti.
Who is this Major who has such an influence over his life? "He is my late father-in-law, Major (nickname) John M'Ringera," he says.
He says he first met his parents-in-law in 1990. He was still a university student, a troubled young man, heavily weighed down by his status and that of his family because he thought it to be of low status. However, he says, this was to change when he got married.
He lived with his three other siblings and his mother. He never knew or saw his father until decades later, courtesy of his in-laws who urged him to go and look for him.
Because of this, the DCI boss laments he suffered low self-esteem because he came from a poor background.
"I felt that few people cared about my family because we had little to show or talk about, and thus I dodged questions pertaining to my family – not because of shame, but because I did not know how to explain my family status," he says.
Father figure
Kinoti recollects how his father-in-law fit in the shoes of his absentee father to shape his life.
"My father-in-law was a retired engineer by the time I met him," says Kinoti, adding that he was an intelligent man who spoke in numbers, and calculated words as if he weighted and assessed every word that came out of his mouth.
Whenever he visited, Major would take him out for a drink, sharing with him his wisdom, and encouraging him to practice peace, love, and humility.
"In fact, I can say that most of my philosophy, style, and manner of working with the government, today as a civil servant, I learned from Major," says the DCI Chief.
Major would often advise a young Kinoti to embrace honesty, sincerity, and faithfulness, especially when working for the government, urging him to be accountable for every deed.
Despite Kinoti's father-in-law having worked for the government as a civil engineer for a long time and being a man of means, he lived a simple life.
He says his approach to life today has largely to do with Major's humility, counsel, and influence.
Before meeting the love of his life and parents-in-law, Kinoti says at some point, he considered himself a street boy.
However, his ego and confidence, he says, were polished when he met Mary Kigetu, his wife. At the time, he was a penniless university student.
"I was a troubled young man, heavily weighed down by my status and that of my family, where I felt few people cared or thought about my family," he says.
He dodged and kept off people because he did not have answers to the status of his family. Then Mary got pregnant and things heated up.
The young graduate did not have a clue what to do in his penniless status.
He remembers getting a call from Julia Karambu, his soon-to-be mother-in-law informing him that he had become a father.
At the time he was working as an untrained teacher having left his former job at the Bishop's House in Meru. His pay slip read Sh600.
When he received the "good news", he had only Sh150. He did not have any idea of what was expected of him as a new father. All he knew was that he had to show up at the hospital for his new family.
He showed up at the Woodlands Hospital Meru, carrying a nylon paper bag, whose contents were a bottle of Lucozade and a bunch of ripe bananas. As if Julia knew his financial status, she had cleared the hospital bill and other expenses.
"I have never experienced relief as I did then," Kinoti recounts as he reminisces over his reaction – he dashed to the nearest bar and ordered his favourite drink at room temperature "to cool my sudden unexplained sweating and confusion".
As he gobbled the drink fast and furious, he remembers he had another battle to fight – relaying the news he had become a father to his mother, a staunch Catholic who needed to know such details as to whether his newfound love knew how to say the Rosary.
Later, he was to meet his in-laws at their high-profile home in Kibirichia, Meru. The pleasant welcome he was accorded awed him.
Finding my father
Kinoti credits his parents-in-law for finding his father 25 years after he was born.
"When I got my second-born child, a son, I named him Major, after my father-in-law, against the tradition of naming him after my father.
Instead of celebrating and hailing him for this gesture, he was put under pressure to look for his father in order to honour him.
Finally, he agreed to look for his father as his parents-in-law would not accept the name for their grandson until it was certified and confirmed by his biological father.
Kinoti, who was at the time a cop confesses to this as being the most difficult task he has ever undertaken despite his prowess in tracking down criminals. He had nowhere to start, no intelligence to lead him, and had no memory of his father.
"I had no idea what he looked like, or where he was. I crossed my fingers and like a solder thrust in the middle of nowhere, but with the hope of finding his way, I decided to obey the orders and complain later," he says.
He recruited his brother, Lawrence Mwiti for the mission, and as they mulled over where to start, they stumbled on some encouraging and reliable intelligence from their other brother, Joseph Kimathi.
Tharaka, towards Ukambani, near Meru National Park would be the starting point.
They would spend eight days crisscrossing villages.
The story of the search for a father sounds like a movie script.
Nonetheless, in this mission, Kinoti learned a few lessons – that people can really be kind. Many are the times they were hosted in strangers' homes, who upon hearing their predicament sympathised with them and gave them food and water.
They were about to give up when they made a breakthrough. "It was about 6.30 pm, and darkness was setting in when we finally found Mzee, turning our misery into an emotional reunion," says Kinoti.
He remembers the two of them sleeping in a granary that night. The next day was marked by celebrations in honour of the grand reunion.
During the special interactions with their newly found father, Kinoti learned his great grandfather had migrated from Mwimbi, Meru, where his father was born.
His grandfather married an Ethiopian, his paternal grandmother. Kinoti also learned he was born in Kaaga, Meru, and he has a sister living in Mutuati, Meru, his ancestral home.
"I will never forget what I have and who I am today is a result of mentorship and guidance by Major and Julia," says Kinoti.
Related Topics