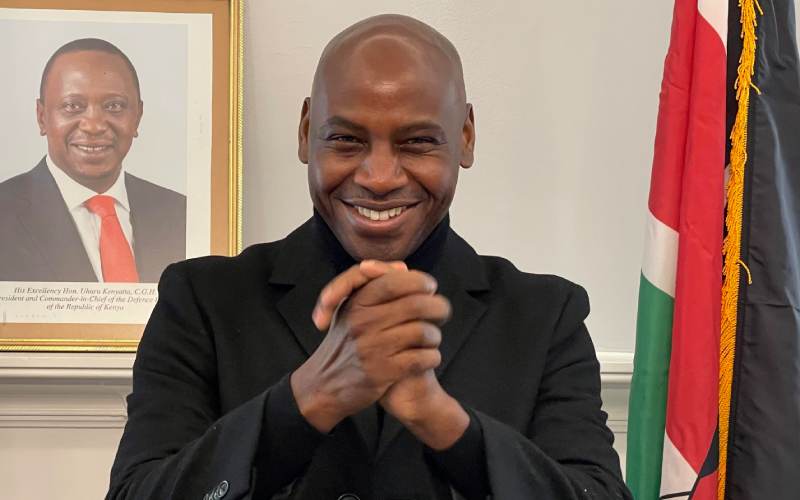 Former Director of Youth and Development in the Office of President, Walter Mong'are has revealed how his late father inspired him to join politics.
The popular creative's father, Mzee Mong'are Nyamboki died on April 20, after suffering from a stroke, and the burial is set for today.
Walter said he admires his late father, who was a polygamist with 18 children and managed to take all of them to school.
"It might sound controversial, but I admired my father's lifestyle; that he was married to three women and had 18 of us. He is survived with a rich legacy in his three beautiful widows, 18 children, 62 grandchildren and 16 great-grandchildren. He gave us the best," he said.
The Umoja Summit Party presidential hopeful said that his father supported him to join politics.
"Mzee is the reason why I decided to join politics. I had discussed it with him and he encouraged me. He said I was brave and I would make a good leader. As one of his older sons, he wanted to ensure that somebody took the leadership mantle and ran with it. That is how he ended up anointing me for leadership.
"Our clan alone has around 450 people who have supported my political bid. At least, I am assured of 450 votes," he said.
He added that he understands what the youth in Kenya need since he has worked with them.
"I was raised in a humble environment and I have worked hard to be where I am. I am the best candidate to talk about the harsh reality most young people are facing," he said.
Speaking about his father's love for education, Mong'are noted that he (Nyamboki) rose through the ranks to become an Education Officer in Kakamega district before becoming the KNUT representative – Kisii branch - in 1975.
He added that his father was an educationist, who once dropped out of school to pursue farming.
"He started his education at Kericho in the 1940s and completed his primary education at Itibo Intermediary School having sat his KAPE examinations. This was after mzee had a brief stint of working in the tea estates. In 1949, he went back to school. He worked briefly as an untrained teacher at Marinen Primary School in Kericho before proceeding to Asumbi Teachers Training College for his teacher training in 1961. Upon completion, he was deployed as a P3 Teacher. To further his education, he enrolled as a private candidate and sat for his A-level examinations in 1970, passed with a distinction in Swahili. This led him to be deployed as a head of Institution at Igonga Primary School," read the eulogy.
The late Nyamboki died at Kakamega Provincial Referral Hospital.
He was 88 years old.
Related Topics