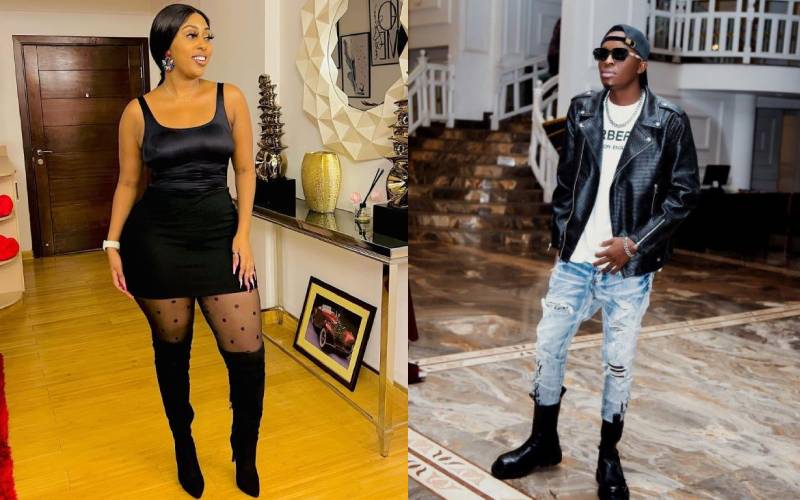 Amber Ray, the controversial socialite, took to social media to announce Shifuu, a new Afropop singer and songwriter, as the label's first signee in April. The two, have already have dropped, Monica, their collaborative endeavour. The new and only signed Kenyan Afropop singer and songwriter in the label had promised he would drop music that moves you and lets you dance and he did exactly that.
Shifuu is a little-known local Afropop recording artiste who confesses that musical instruments have always mystified and completed him in a way that only nature can understand. While escorting his buddies to record music in their local studio, he developed an interest. After a few recordings in Mombasa, he ventured out to the capital city.
"I would not say I am special in any way, but music brings the best out of me. I am bringing something new, which the industry has never experienced before and I will be the biggest celebrity Kenya has ever had," he says.
Shifuu's style is unmatched because he possesses this rare ability to stick to culture, yet be relatable to the outside world as well. Unlike creatives who have a specific genre dominance, he brings Afro vibes, can rap, and sneak in some sleek Amapiano.
"My sound is diverse. I am more of an Afro fusion artiste, but can also blend other genres depending on fans' preferences."
His versatility in storytelling and dynamic range has always seen the vibrant entertainer cut a niche for himself, and his first musical blueprint, Monica was nothing, but magical. Monica is a timeless jam whose basis is on love.
He sought the services of some of the highly sought after creative brains including Deska Torress while the audio was mixed and mastered by Motif Di Don and Icon Throne City. Featuring Amber in the same project was the icing on the cake.
"Amber Ray is my boss who I had inboxed way back. But my request was left pending. I had been in her DMs for the longest time before she agreed to work with me. When I met her manager, they listened to my work and eventually decided to give this thing a shot. That is how we got to work together." "Shifuu approached my manager and we sat down nikamskiza and he has a talent, for sure the only thing he needs from me is support and I thought why not? So I picked him," said Amber during the launch of the studio.
View this post on Instagram
The musician, who believes in working quietly and letting your moves make the noise is not a showy person and neither is he predictable.
That is his mantra as he refused to let us know what his next project was. "The mystery is in being mysterious; I do not want to be predictable, with people knowing my moves, but I would not disappoint - more good music coming and I am sure they will love it," he says.
An artiste has to have a mentor and for him, he sees Diamond and Wizkid's approach to music enlivening. He has watched their growth since he was a teenager and wishes to follow in the same footsteps. Shifuu is determined to win and our anticipation for his upcoming projects has heightened.
View this post on Instagram
On the other hand, Shifuu is a sucker for fashion and he has diversified his portfolio into the fashion industry. He has a clothing line by the name The Dresserry that deals with imported designer outfits and also a self-made streetwear company called ARTFIT. They make everything locally. He says this is his fallback plan to keep him afloat in the industry.
"To any artiste out there, I think this should be the way to follow. One should diversify their income streams since working hard without working smart might push you off the radar and one might lose focus," he says.
Related Topics