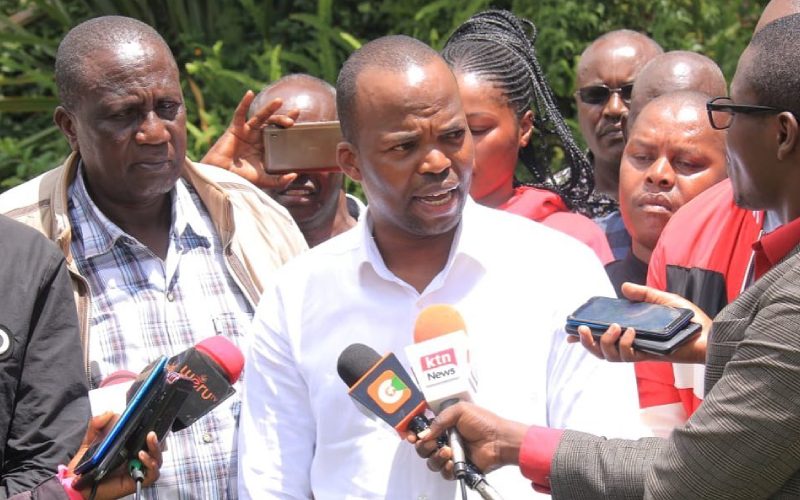 Just days after Deputy President William Ruto announced that Jasper Muthomi aka MC Jessy had shelved his political ambitions in favour of one Mwiti Kathaara for the South Imenti MP seat, the comedian has made a U-turn saying he will vie as an independent candidate
Speaking to journalists on Monday, Jessy said his community had asked him to soldier on despite not getting the UDA party ticket.
"We were in the race and everything was going very well with UDA and everybody knows what went on there.
"Now my community has called upon me. They are the ones who brought me up and educated me. They are the ones who said, "No. Jessy you are on a journey and we need you back in the community," he said.
Adding: "As a young person with a dream to lead this wonderful society and with their permission we sat down and I heeded to it."
On his friendship with DP Ruto, Jessy maintained that they are good friends and he is still supporting his presidential bid.
"We talk a lot and he is a friend of mine. When I was joining the party he is the one who invited me and we are here today with his permission.
"That is why we are continuing the journey," he remarked.
Young people and leadership
Speaking on the challenges facing first-time politicians, Jessy said finances play a key part in politics and he is lucky he got support from his community.
He asked the public to support young leaders and turn out in large numbers to elect them.
"Support the young people. Vote for them…they are going through so much but might not talk about it. It is not an easy journey," he said.
Jessy officially joined the United Democratic Alliance (UDA) in January this year as he sought the South Imenti parliamentary seat.
At the time, the comedian stated that he arrived at the decision after holding various consultative meetings with the people of South Imenti and he described UDA as the 'winning team'.
He further revealed that he got a call from DP Ruto and he was more than convinced that he had made the right decision.
On Monday he stressed that his position in UDA at the moment is 'null and void'.
Related Topics