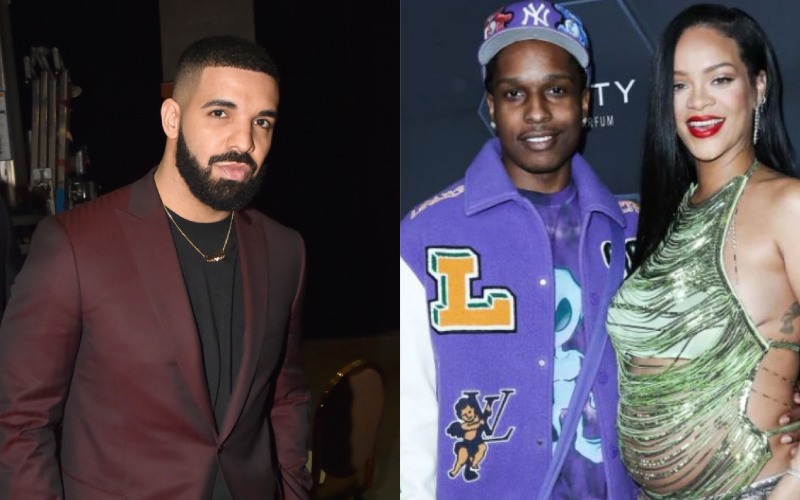 Canadian rapper Aubrey Drake Graham aka Drake was one of the top trending personalities on social media for the better part of Thursday and Friday after word went round that celebrity couple A$AP Rocky and Rihanna had parted ways.
Louis Pisano, a fashion influencer and commentator, broke the news on Twitter saying: "Rihanna and A$AP Rocky have split. Rihanna broke up with him after she caught him cheating with shoe designer Amina Muaddi."
While little is being said about Amina, the 36-year-old is one of the most sought-after celebrity designers when it comes to 'shoe game'. Amina is also responsible for designing Fenty's footwear and Rihanna is often seen in custom shoes from her own label.
Rihanna and Drake had an on/off relationship between 2009-2016, in which they worked together on different songs including 'Work', 'Take Care', and 'What's My Name'.
During that time, Drake often described her as his 'ultimate fantasy' and in 2016, he introduced her at the VMAs, saying: ''We love the videos, which change their artistic vision from year to year. But most of all, we love the woman who hasn't changed since day one. She's someone I've been in love with since I was 22 years old, she's one of my best friends in the world. All my adult life, I've looked up to her even though she's younger than me. She's a living, breathing legend in our industry,'' he said.
The pair, however, fell out in 2018 although Rihanna said they were neither friends nor enemies.
Netizens took the opportunity to poke fun at Drake, suggesting that he has been waiting in the wings to make a comeback into Rihanna's life.
Here are some of the tweets:
Drake after hearing Rihanna and ASAP Rocky are no longer together pic.twitter.com/nsyaoqOYpc

— Frenchkind? (@o6inna) April 14, 2022
Drake after hearing Rocky and Rihanna split pic.twitter.com/o0qQGJu3PO

— matthew (@trapqymeal) April 14, 2022
#Drake making sure he's the first Shoulder there for #Rihanna pic.twitter.com/nhiIQYjlg4

— Ed (@Ed_xlm) April 15, 2022
Drake hearing about Rihanna and A$AP rocky: pic.twitter.com/CC61zMShLC

— MËNACË!*+ (@ayoitskam) April 14, 2022
Drake: "bro, we're Rihanna's true soul mates.. It was only a matter of time before ASAP Rocky fumbled worse than us" pic.twitter.com/EehEiqYVOD

— Lannister⚔️ (@LesNgobz) April 15, 2022
Drake after hearing asap rocky cheated on rihanna pic.twitter.com/QPVzlQT6Oa

— meecher (@notmeeech) April 14, 2022
drake be like "dear rihanna, gods plan ?" pic.twitter.com/MtzN89x9iC

— ??? (@iamthegwap) April 15, 2022
Rihanna finally got cheated by her boyfriend Asap Rocky..Drake: pic.twitter.com/wfidNSfHa8

— Uncle Sekani ? (@Uncle_Sekani) April 15, 2022
Related Topics