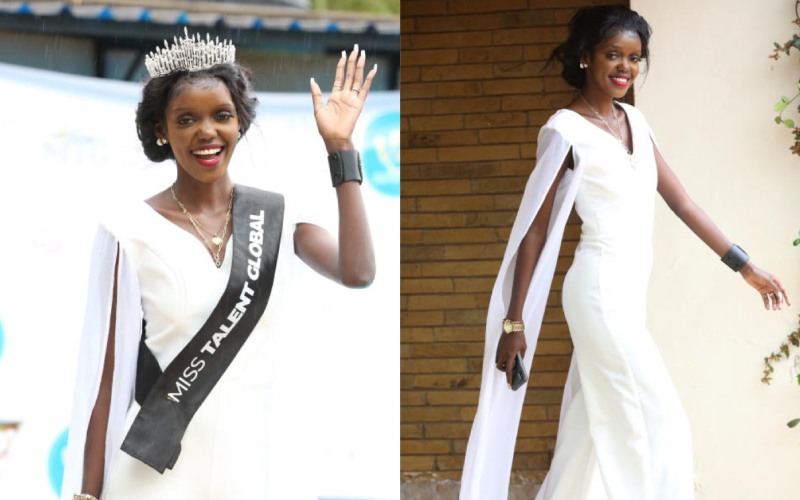 Crowned at a colourful event held in Nairobi recently, Diana says the sky is the limit for her role as the titleholder of the crown.
Diana Edward, is forging her own career in an industry where the fairer-skinned ladies appear to have an edge. "I have met many girls who want to change their complexion to appear lighter, but I believe we should be proud of our African dark skin," says Diana.
Her modelling career started at Arusha Day School where she attended high school. "We held talent shows and I was in charge of modelling," she says.
However, the first time she sought her father's permission to attend her first modelling contest, he refused. "Initially, my dad was not supportive, but when I started winning the contests, he became my greatest supporter and even accompanies me to my projects," she says.
"My dad encourages other parents to allow their children to pursue their dreams and passions," she adds.
Miss Talent Global, which was officially launched earlier this month in Ridgeways, Nairobi is a unique pageant that will explore different fields that interest the youth. With a tagline that says: 'Empowering the Youth. Promoting talent', it's main focus will mainly be in the fields of beauty, fashions, sports, arts and music, science, engineering, medicine, education and media among others. It will help both males and females in achieving their career dreams and as a result, improve their lives.
Diana admits that being in the limelight comes with its ups and downs, but she has chosen to focus on running projects that edify her society. She actively runs three projects namely; Cut Alert Foundation, which fights against Female Genital Mutilation (FGM), Africa Mashariki Festival, which aims at promoting tourism within the East African region and Makini Road Safety, which promotes safety on the roads for both drivers and other users.
On the first of the month of April this year, Diana added a feather to her cap when she was crowned the inaugural Miss Talent Global, a beauty pageant whose vision is to empower the youth by nurturing their talents and dreams. "I'm passionate about empowering women and the youth and it was easy for me to buy into the vision of Miss Talent Global (MTG), 'beauty for a cause', as they not only focus on physical beauty, but will also nurture various talents among the youth," she narrates.
She says the beauty industry needs to change how they perceive different skin tones. "I have watched the dreams of many young women, especially darker-skinned models crushed because of how some are discriminated against during the pageants," she notes. "Our society perceives light-skinned women as being more beautiful than their darker counterparts, which creates a lot of insecurities during the competitions," adds Diana.
The beauty queen is currently in Mumbai, India on her maiden assignment, which was to accompany a patient, Dr Fred Koske who was proceeding for specialized treatment. As part of Miss Talent Global's charity arm, which promotes beauty for a cause, Diana will be assisting with logistics for Dr Koske's treatment. She will also meet with Indian models and share experiences from both Africa and Asia.
Related Topics