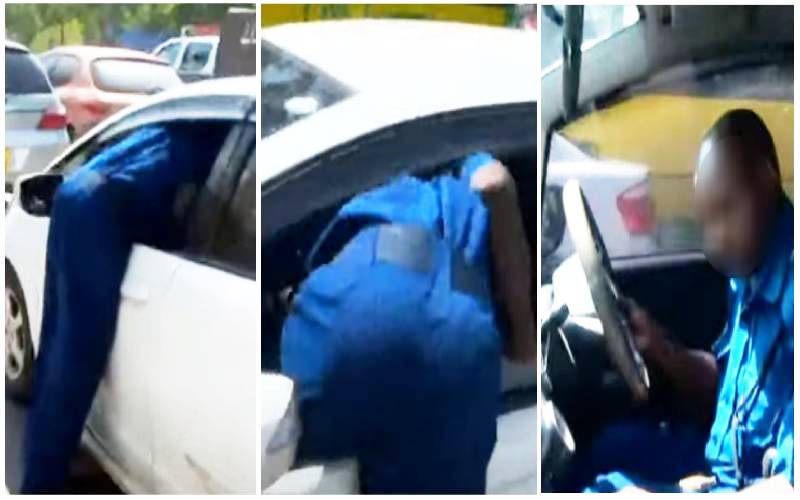 The National Police Service has commented on a viral video that captured a police officer forcefully entering a private vehicle in the CBD.
A few seconds later, the motorist flung his door open and fled on foot, leaving his car behind.
The traffic officer, thereafter, ignited the engine, and drove the vehicle away. It is reported the cop took the vehicle to Central Police Station.
In a statement, the NPS said the officer in the clip has been identified and will undergo disciplinary action.
"The said officer has been positively identified and is undergoing disciplinary action.
"We reiterate that it is imperative for individual police officers to discharge their mandate professionally, diligently and with high levels of discipline," read the statement in part.
The incident, that occurred at Kenyatta avenue, has attracted a myriad of reactions online, some arguing that the officer should not be punished.
Oluoch: Sometimes these drivers also force the police officers to react in such manner. The police are also human beings who make mistakes just like ordinary citizens…kindly don't punish that officer.
Cjay: You wanted the officer to use magic to make an arrest when obviously the driver was resisting arrest? If anything the driver was errant and failed to conform to directives given by an officer in uniform. It is easy for police kunyanyasa mwenzao,
Amakanji: These officers at times work under extreme pressure from unruly motorists who ignore their directives, however he went overboard.
Carol: Both parties should know their rights and limits,it's just a matter of law,for instance the cop should know it's an offence to enter a motorist car because of a traffic offence…let him write a ticket for court attendance.
Related Topics