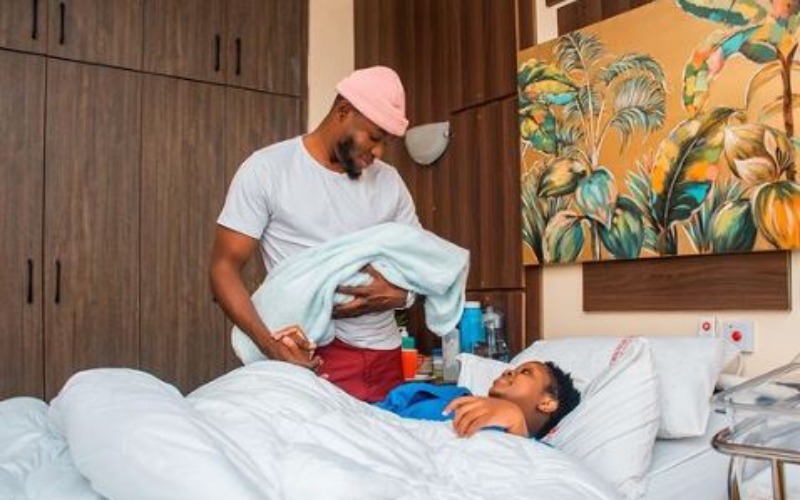 Celebrity couple Nadia Mukami and Arrow Bwoy have taken to social media to announce the arrival of their child. Sharing the news on Instagram, the couple disclosed that their baby boy arrived safely on Thursday, March 24.
Arrow Bwoy further assured their fans that both baby and Nadia are in perfect health.
"24.03.2022 We received the most Beautiful Gift Ever @haseebkai welcome to our world @nadia_mukami thank you @rfh_healthcare my Queen and the Prince are in the safe hands," he shared.
Revealing the name of their son, Nadia wrote: "Welcome to our World Haseeb Kai @haseebkai. 24th March 2022."
Netizens took the opportunity to congratulate the two and wished them well as they began their new journey of parenthood.
"Congratulations my brother n my sister," wrote KRG the Don.
@prezzo254: "Congratulations brother God bless u & ur family."
@michelle.ntalami: "Congratulations guys!
@badgyalcecile: congrats my brother to you and the family"
@dkkwenyebeat: "Congratulations
@massawejapanni: "Dadangu mdogo Karibu kwa uzazi! Kweli utapenda!
Last year, the two artistes broke the internet when they announced that they were an item. Through a live feed on Instagram, Nadia came out clearly to announce that she had become of age and was very much interested in starting a family.
"This is not about clout chasing. Most people don't understand but I have come of age when I need to have someone I can build a future with," she revealed.
According to Nadia, it had reached a point where she was tired of pretending that she was in a romantic relationship with Arrow Bwoy.
"Sometimes we'd go for meetings or even enter hotels at different times and act like strangers to disguise what we have yet we shared the same bed the previous night," she added.
While announcing that they were expecting a baby boy barely two weeks ago, Nadia explained that she kept it a private affair because she wanted to embrace the whole journey differently.
"I remember when I got pregnant, God remembered me the most. I have done so many corporate deals because I have embraced my journey privately. Watu wa blogs mko hapa najua mtasema Nadia alikuwa anaficha mimba, no. Pregnancy is a very private journey, there are days you wake up you have a big meeting but you just want to sleep the whole day. So sometimes some of us don't want to reveal it out there," said Nadia Mukami.
Related Topics