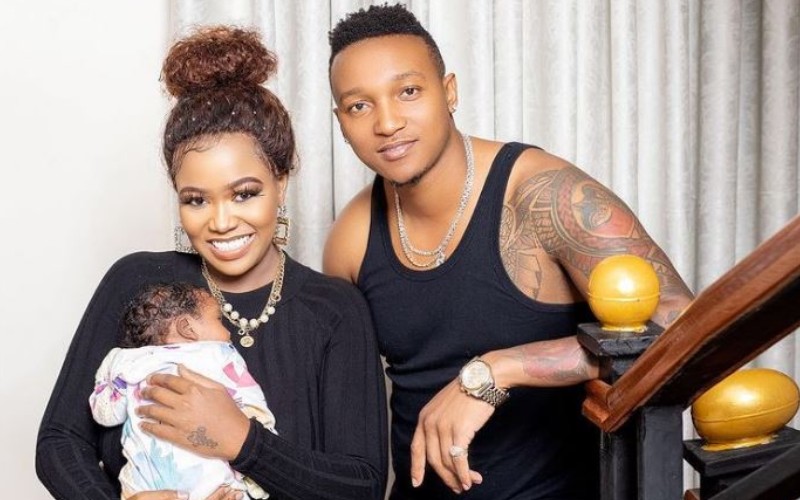 "What do you want to know?" Brown Mauzo, born Fredrick Mutinda Kilonzo, asks, laughing his heart out.
An elusive man ever since what started as gossip became reality, his engagement, marriage, and life with Vera Sidika, we finally got an interview with him. This week, he has been pushing his latest video, Moyo Wangu from V the Album.
Brown Mauzo has been coy about his marriage.
He has been taking us in circles every time we approach him, promising a sit-down 'soon'.
How has fatherhood been, and living with a wife who's more famous than him?
"Fatherhood has been amazing," says the man who was previously married to another woman with whom they have a baby girl.
In September 2020, videos and photos of Sidika and Mauzo surfaced, but many believed it was a gimmick for a new video or to push Sidika's content.
At the same time, Mauzo was rumoured to be dating another socialite, Amber Ray.
When it was revealed that he was engaged to Sidika, he was quick to dismiss Amber, deleting all her images from his social account, and telling Pulse; "We are no longer together, now I am with Vee."
It wasn't until Sidika posted news about her pregnancy that many finally believed that the much-travelled socialite and businesswoman was finally ready to settle down.
"We are pregnant and we could not be more excited! We decided it was time to add an entertainer to our lil family!" her long post read, before we were invited to her pregnancy journey, gender-reveal party, and the actual birth.
How is the marriage going on? How do they relate? What is the difference between the relationship and previous ones the Naoa singer has had?
"Every relationship has its ups and downs," he says. "The core value of every relationship is happiness and stability."
He stops to think.
Then he elaborates; "I am very happy that I am raising Asia (Brown) with my wife and that she is also in showbiz, so she gets to understand me."
A social media-heavy couple, the two are in each other's posts, and regularly include their daughter.
She has an Instagram page, a YouTube channel, and she is on Tiktok.
I ask him about his daughter, and he lights up. He explains that he has introduced Asia, who turned six months this week, to the rest of his family, especially her siblings.
"My baby was known by her siblings from day one. They know her and she will know them once she becomes of age," he says of the girl with 46 Instagram posts as of Wednesday.
Related Topics