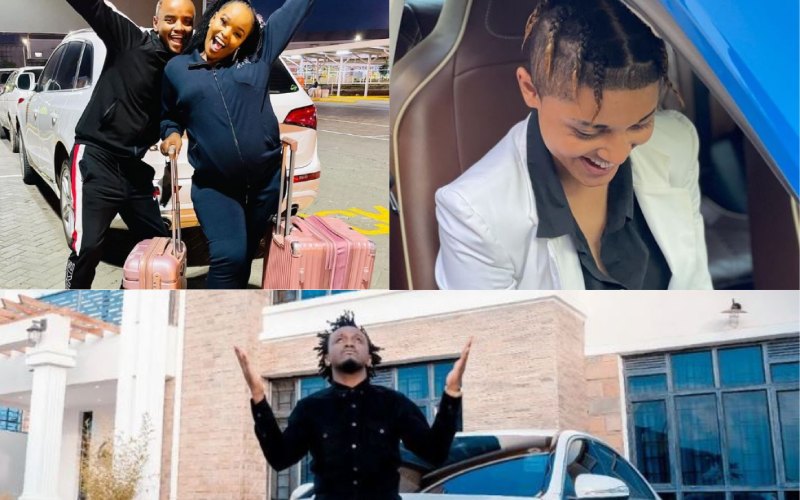 Rapper Notiflow, real name Natalie Florence, last week reportedly spent Sh1.5 million on a car for her girlfriend, popularly known as King Alami.
"I surprised my girl with a Volkswagen Up, her birthday is on the 25th but I could not wait," Notiflow wrote on Instagram.
While the two have been together for barely a year, it comes as no surprise that Noti would decide to give Alami such a gift.
It has become the norm in Kenya's entertainment scene to see well-to-do celebs splurge on their significant others, or at least claim to.
Last month, the Bahatis, who have a large fan base both on YouTube and social media were the centre of attention for taking it up a notch in their costly gift giving.
Singer Kevin Bahati gifted his content creator wife Diana Marua a mansion estimated to cost over Sh20 million shillings.
The Valentine's Day present by the Mtaachana Tu singer left fans and onlookers with mixed reactions. Some loyal fans were happy for the pair, while critics questioned where the accumulated gifts go after the social media showcase is over.
"I have taken time to get you this gift because this has been your dream for so long. This is your gift, you can be proud of it and be proud that you own it. I know you have been waiting for so long and I know you were not expecting this but you are now a proud owner of this mansion and it is fully furnished," Bahati told Diana as he unveiled the beautiful house.
It was an emotional moment for Diana, who shed tears of joy and knelt in thanksgiving prayer - as the cameras rolled for her YouTube channel.
Before this, the 28-year-old artiste had allegedly splurged on another costly purchase - a Toyota Land Cruiser Prado TX. Which also raised questions with fans on whether it was real or all for show.
Does the young celebrity couple really have pockets that run that deep? Or are we all just being haters? After all, it is no secret that the entertainment industry is a lucrative one.
While we cannot ascertain which celebrity gifts are real and which are just 'sponsored content' with a dose of clout chasing, it would be nice to imagine that our local stars are just borrowing a leaf from the book of international celebrities, loving each other like money is no subject.
The 2018-2022 Entertainment and Media Outlook by PricewaterhouseCoopers reports that Kenya's revenue from music has been on the rise over the last five years.
"Both live and recorded music will continue to grow, but the bulk of the revenue and growth will come from recorded music. Overall, the market is forecast to reach Sh4 billion ($35 million) in 2022," the report stated in part.
The study noted that international music labels are increasingly involved in the Kenyan market.
On matters internet, where Diana makes her daily bread via YouTube, the study suggests that things are bound to get better for content creators.
Kenyans are increasingly enjoying the perks that come with the World Wide Web - and learning how to make the most of it, even earning living from it.
The report stated that internet revenue in the country is expected to be valued at Sh200 billion ($1.9 billion) by the end of this year.
So, with Bahati taking home that cash from music royalties and live performances and Diana bagging the content creator money from her YouTube and social media endorsements, perhaps the couple can afford to live in the lap of luxury.
After being under scrutiny by the public, the singer wadded off critics and insisted his gifts are genuine.
"To Those Who are Doubting That God Can Bless a Poor Boy From the Slums Let Me Confirm this; Yes "I AM A BOY FROM MATHARE SLUMS." And to Those that Believe God Can Raise a Man From Poverty to Glory, "MAY GOD DO IT FOR YOU TOO IN JESUS NAME," he wrote on Instagram.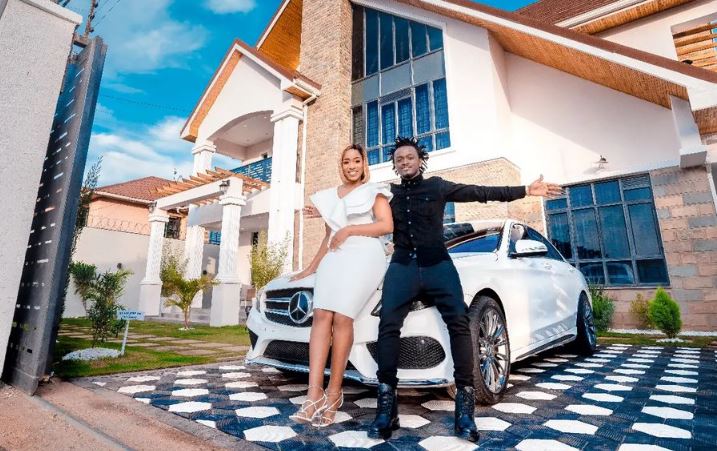 Luxury cars are not presented simply with a big bow on them either, sometimes they come with a big billboard along a busy highway. Because - is it even a present if the whole of Nairobi does not know just how much you love your beau?
In October 2020, as the country was reeling from the shockwaves of the Covid-19 pandemic, celebrity Christian couple Peter Kabi and Milly Wambui alias Kabi and Milly Wa Jesus were splurging on new cars and billboards.
As Kabi turned 30 years old, his wife reportedly spared no expense; she bought him an Audi A5 and put his face on a billboard for all to see.
"Milly this is the biggest surprise ever. Oh my God, I cannot believe this just happened. My love has outdone herself, the surprise is the best. I never imagined I would be here turning 30," a seemingly grateful Kabi wrote on Instagram.
It would not have been suspicious if the rest of his post was not dedicated to the car dealer that 'sold' Milly the pricey car.
"I cannot believe this, I am honestly overwhelmed."
What raised even more eyebrows was how the couple returned the luxury ride to its sellers just days later.
The couple explained via social media that they returned the vehicle because it was "too low for Kenyan roads."
"So she went ahead and got it for me but after driving it for about four days I found it is low. It does not feel as easy to drive especially on our roads. Where we stay is very interior. Now, this is what I am thinking, I am thinking we add that million bob and upgrade to a bigger car, the Audi Q5."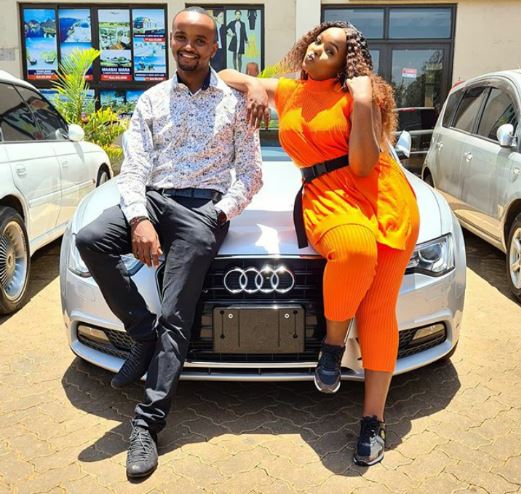 In 2016, singer Esther 'Akothee' Akoth reportedly gifted her daughter a Mazda Demio for her 19th birthday. And the lavish bash the self-proclaimed boss lady threw her daughter is still memorable, years later.
It was an exclusive red carpet affair; loved ones popped champagne, the girls twerked, and Akothee made thousand shilling notes rain on her happy, dancing daughters.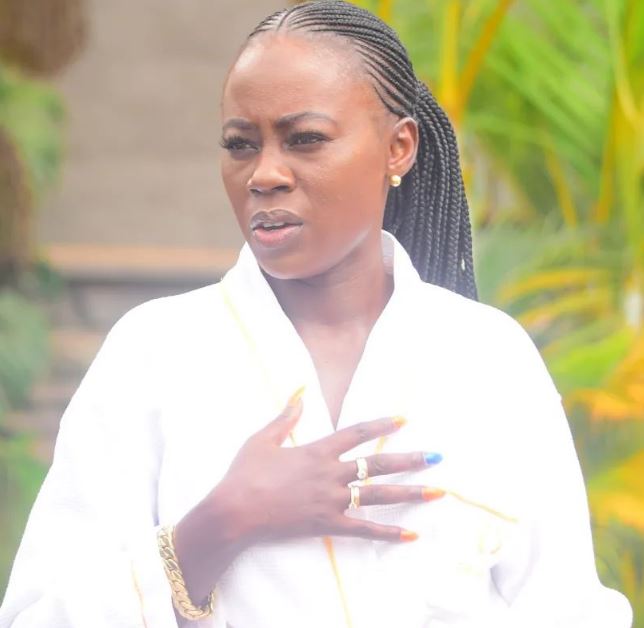 Related Topics