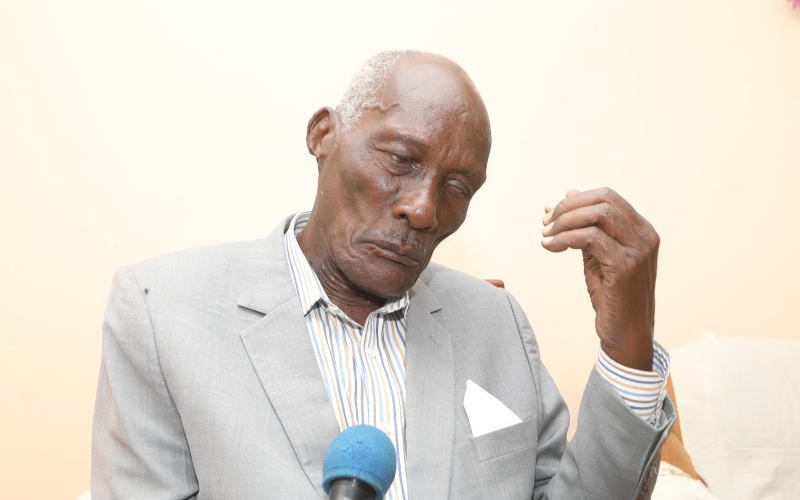 Popularly referred to as the Chairman of the Men's Conference, wealthy businessman and politician Mzee Jackson Kiprotich Kibor was loved and respected across the country thanks to his philanthropic gestures.
Mzee Kibor, however, caught the attention of Kenyans due to some of the controversies that surrounded his love life, having been married four times.
In his death, Mzee Kibor has been remembered as a hardworking, visionary and vocal politician cum businessman who would speak up his mind without fear or favor.
Here are some reactions from Kenyans on social media:
Hon Kuria Kimani- MP Molo: Waking up to the sad news of the death of 'Chairman of Men's conference' businessman Mzee Jackson Kibor. He has truly lived his life fully and remarkably. His life successes clearly define the epitome of hard work, sacrifice and dedication. Rest in Peace Mzee.
@asknyaora: The Mighty Oak has fallen in whose canopy we dwelt. He was lethal, ruthless and dangerous. He remained committed to his masculine core. Rest well the legend. We shall traverse through your shadows. Go well Mzee Jackson Kibor.
EDGAR @pizzahmwitu: Mzee Jackson Kibor is gone but he will never be forgotten. His nuggets of wisdom will remain with us forever. Shine on Mzee!
Victor K. @ViqRuto: I remember that one-time Mzee Jackson Kibor's son wanted a piece of his farm. Mzee wasn't having that nonsense, he shot at him and told him kwenda uko tafuta yako. ???????? That was a lesson on self-dependency! Wacha kungoja inheritance.
Uncle Sam, @samuelmuthoka21: When Jesus was given up for crucification, Pilate told the Jews "Behold, your king". Mzee Jackson Kibor was the undisputed boychild president. Today we all say"behold, the chairman, men's conference." What a man of impeccable masculinity. RIP
Angelo Maketh @angelo_maketh: Rest well Mzee Jackson Kibor, Chairman, Men's Conference, Men's Council & Stingy Men Association. You were a true defender of Boy Child. We are now orphans but your spirit will live on. Viva Chairman
An iroko tree has fallen, it's a sad day. Valiant men mourn. Fare thee well Mzee Jackson Kibor. We are because you were.

— Ja Loka (@_fels1) March 17, 2022
Mzee JACKSON Kibor has finally RESTED. RIP President of the Boy-Child.

— Robert ALAI (@RobertAlai) March 17, 2022
My heartfelt condolences to the family, relatives & friends of Mzee Jackson Kibor. We have lost a MAN. - a MAN of Valor & Value, - a man built in his maleness antique, - that bestowed us the masculine decalogue, May his soul rest in eternal peace. #BetterTogether

— Eric (@amerix) March 17, 2022
Widows Eunita Kibor fourth wife and Naomy Kibor, third wife (right) comfort each at their Kabenes home after the death of their husband mzee Jackson Kibor in Soy constituency Uasin Gishu County. Photo: Peter Ochieng pic.twitter.com/x34JpTDsWf

— The Standard Digital (@StandardKenya) March 17, 2022
Good morning It's another dark day for the team Masculinity Saturday to hear about the passing of Men's Conference chairman Mzee Jackson Kibor. The teaching continues ... Forever in Our hearts. Rest in Peace Mzee Kibor. pic.twitter.com/LxjGZGZaun

— Masculinity Saturday (@amerixjnr_) March 17, 2022
Related Topics