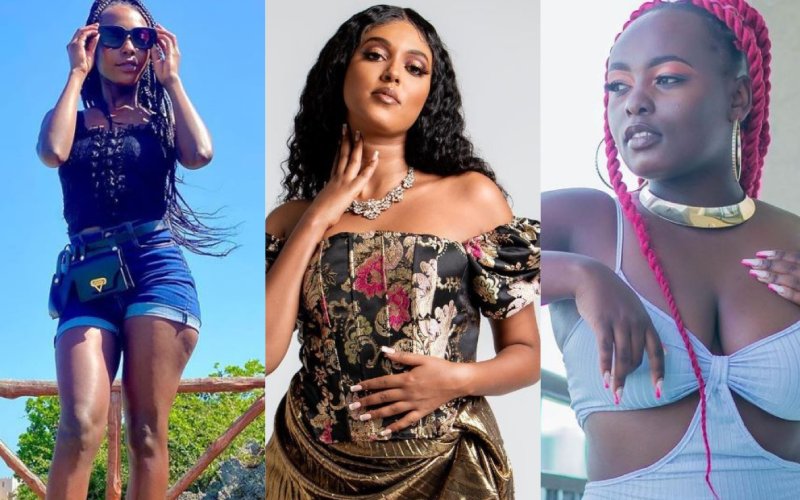 Dyana Cods
Sultry, body-positive heroine, Dyana may be coy from the spurts of interactions she allows her fans to get off her, but her art speaks volumes of her confidence and security as a rapper.
Since exploding into the rap scene in 2019 with her bold and uncanny commentary on the now infamous and legendary Homeboyz Radio Freestyle, to her stellar verse on Wakadinali's rap anthem, Morio Anzenza, the "River Lake Nilote" has carved her own lane and stamped her authority as one of Kenya's most exciting prospects.
Being the only woman in a consistent, highly touted, and celebrated rap collective – Rong Rende – that also houses the indomitable Wakadinali stable comprising all men, this has been not only a feather on her hat, but a tremendous rapport to build as a female emcee, in how she conducts herself and still exudes excellence amidst that high calibre of quality male rappers.
Despite the overwhelming success, Wakadinali and Zoza Nation has been able to conjure, Dyana stays swimming against the tide. She represents female independence and empowerment and has been able to put out her own projects, such as last year's late offering, 'Riverlake Nilote' that emphasised her talent and versatility.
SilversTone Barz
When mentioning the hottest rappers in Kenya's vast musical scene, Silver is definitely not one to be sidelined as a "female emcee" as she holds her own against the guys on any track – just wind back to Khali Kartel 3, see?
Having worked with premium artistes such as Khaligraph Jones, Timmy Blanco, Boutross, Scar Mkadinali and Dez, just to mention a few, Silver is a peach of an artiste.
The gaudy Nakuru rap queen is more than just a rap figure, she also has an extravagant fashion sense. She brings forth multiple styles of music such as dancehall and R&B, no wonder her legion of fans treat her like rap royalty and ensure she is bagging multiple awards whenever she needs their help in voting.
Coming off a strong 2021, she has begun the year off on a flyer pivoting into the Drill Music scene, already churning out Bae alongside AJAY from Buruklyn Boyz and rap prospect Big Yasa – who is also making a name for himself.
A closer look at her team will reveal she keeps some badass women in her ear, and this has elevated her to one of the best-branded artistes in Kenya that's independent.
Bey T
Regarded as one of the most euphonious acts locally, Bey T is among Kenya's pearls transcending boarders.
Last year, she was featured on South African R&B Pop marvel Shekhinah's Fixate that was a mainstay on various domestic and international charts in SA and beyond, not withstanding the playlisting it received from major DSP's.
Still independent and actively pursuing her undergrad, Bey T manages to juggle school and music at a meek age, yet not falter in either disciplines, as she mirrors what the savvy Kenyan rap queens are about. A big-show performer, an entrepreneur, a civil rights activist, a dulcet singer, she is getting better at her craft with time, but for what she has achieved in such a short period, she is one of 254's most revered voices and role models for the upcoming generation.
Steph The Rapper
This husky-toned rapper is one of Kenya's pearls on the microphone.
Her debut 2020 EP, Changes, forced everyone to start checking her and out acknowledge Steph The Rapper has arrived.
Exalted for her hard-hitting punchlines, volatile flows and sassy charisma, Steph has taken the music industry by storm, hence why brands like Ballentines, Smirnoff, and others are tapping into her creativity and unapologetic drive before her price goes through the roof.
Branding the "bad b***h" and hypersexualised woman embrace, Steph is taking no prisoners as she takes over the scene with her beauty, edge and dash.
Vallerie Muthoni
Multifaceted Kenyan-American rap extrordinaire, Vallerie Muthoni had her breakthrough with her hit single Spicy SZn alongside Kenyan hip hop icon, Taio of Camp Mulla and Boston-based starlet, Le Ru.
Since then, she has gone on to perform at festivals, been named on culturally defining lists such as the HBR Freshman List, and has been part of major artistes' albums.
Starting off as a YouTuber making a plethora of visuals – reviews, storytimes, vlogs, covers, and more, it was not until 2018 when she announced her dexterity as an artiste.
Today, she is co-signed by her counterpart OG's in the industry such as MDQ, Fena, Mayonde, Karun, and others, as she keeps surprising fans with her ever-growing skill-set. When she dabbled into directorial duties on her underground banger, Vitu Kwa Ground Ni Different, and doing her own choreography, she again proved why she is a force to reckon with in the entertainment industry.
To date, Brown Suga as she is also aliased keeps on revitalising and rebranding herself, being one of the youngest acts in Kenya that can boast of an online cult following.
Maandy
There is not much to say when it comes to Maandy aka Kabaya. Getting her footing off in the music industry as a DJ, Dagoretti's Maandy has put in the time to be mentioned among Kenya's elite class of artistes.
From opening for Bongo virtuoso Ali Kiba, to being tapped as one of Kenya's leading artistes when she curtain-raised at Solfest, to being noticed by Mr Eazi & J Balvin, to her music videos organically clocking 1 million views independently; Maandy has catalysed her career trajectory brick by brick, and there is no denying her her right to be among the crème de la crème.
Hit songs, likeability, vivaciousness, branding, hard work, and a sticky personality, Maandy is by far one of Kenya's most distinctive and talented acts contemporarily, and if you do not believe me, just play her album, Risky and we can debate, well, not really.
The Only Rosa
This is where class meets talent, and beauty meets its match.
Coming across Rosa for the first time in 2018, her opening performance for Nasty C live at Racecourse went viral on Twitter due to her sartorial fashion sense. Her mouth-watering silhouette, and unbelievable twerking feast she gave Kenyans, placed her on the Hall Of Fame of performers.
Her breathing technique also wowed many, her crowd control snatched hearts, and her lyrical prowess was the last cast of the stone, and Kenyans knew they had a star on their hands.
Though Rosa prefers melodic music, her rap side is one she does not tend to mirror so much, but based on performance alone, she is a future Grammy Awards winner, if not a World Tour contender.
Ssaru
Wa Manyaru maintains her gutter image, and this resonance and flexibility to know how to relate to everyone in the room is what has propelled the leading rapper into the galaxy of stars she currently dines with.
Her features such as the larger-than-life Sipangwingwi have afforded her opportunities to be enjoyed by the well-moneyed in society including politicians, but Ssaru never forgets where she comes from and is a hood hero.
Besides that, she bedevils gender stereotypes and equalises rap to be a sport that can be gender-friendly for women.
She has taken on the Goliaths of Kenya's masculine-based rap industry and proven that women have something to say.
From the look of things, she will be an international stand-out by the end of the year and will open major doors for the Kenyan music scene.
Related Topics