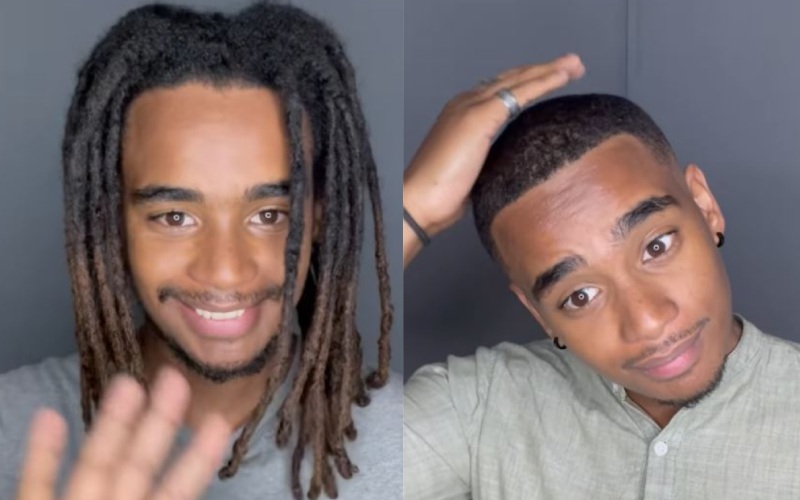 It seems quite a number of women online can't get enough of Sean Andrew. I have never seen an entire online population of crazed and love-struck women 'screaming' just because someone decided to change their hair.
Sean shared an Instagram reel on his profile to announce that he decided to cut his dreadlocks for private reasons. The reel has now been reshared so many times you have probably seen it on your feed.
Earlier on, he had asked his fans to help him decide what he should do with his hair, something that most netizens (men) felt was irrelevant. In an interesting QnA session on Instagram, Sean said that shaving his hair had a deeper personal reason behind it.
"Seriously considering a haircut when I get back to the city... Your thoughts below" Sean wrote.
He shared a reel to showcase his before and after look and most of his followers were impressed.
Sean is probably the Zeus of hair. When he came into the limelight, his hair was quite short and over the years, he decided to have dreadlocks.
He made headlines after he started dating YouTuber Elodie Zone and even more headlines after the two broke up four years ago. The digital creator took to Instagram and accused his girlfriend at the time, Elodie, of partying too much.
Through an interactive session with his fans on Instagram last week, Sean said he does not want kids and it is something he has known for quite some time.
"Just don't want kids. It's something I have known for a long time," he wrote.
He further added that he is not actively looking for a partner at the moment but if he meets someone he is on the same wavelength with, he will explore the idea.
"When did I say I was looking for a lifetime partner If anything, I'm trying to live a good life, something meaningful to humanity. If I can build something with someone well and good, two minds can always achieve more than one. Otherwise, I'm on my merry way," he said.
Related Topics