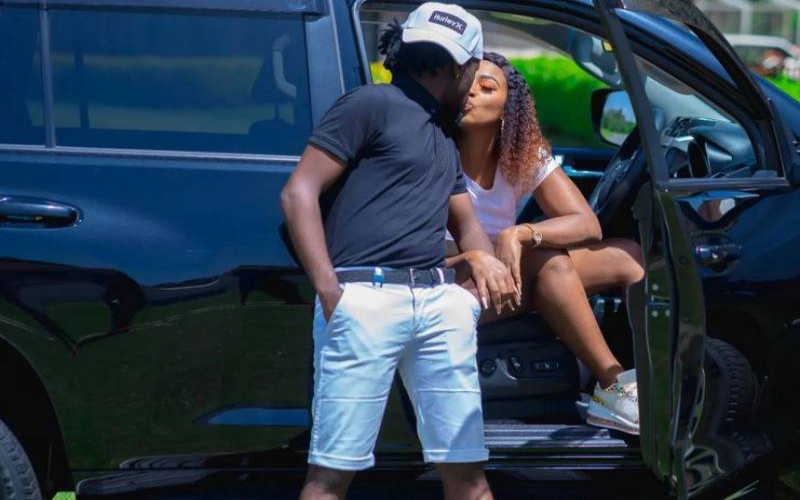 With Valentine's Day falling on a Monday in 2022, couples have a tough choice in the cherished day of romance to turn on the charm and display affection, especially while glazed behind the long shadow of the coronavirus pandemic that has upended life as we know it, for nearly three years.
Some will be hanging onto their savings in light of Covid-19 fears and shun extravagance for more personal and low-key approaches to celebrate love. But, like in the yesteryears, many will not settle for a less-than-stellar Valentine's Day and seek big romantic gestures.
Among these are celebrities, who with their unimaginable net worth, never have to worry about 'January blues' or breaking the bank to impart long-lasting delight to their better halves. They will be globetrotting to fabulous locations and splashing out on luxuries as did one of world football's biggest names, David Beckham, in 2006.
Estimated to be worth over $450m (Sh51 billion), Beckham – arguably the greatest outfield player of his generation – splashed $8m (Sh910 million) on a Bulgari necklace for his wife, Spice Girl-turned entrepreneur Victoria Beckham, on Valentine's Day.
To put the price tag in perspective, Lamu County allocated Sh565 million to the Agriculture, Rural and Urban Development Sector for the FY 2021/22. If a local is to spend the remainder Sh400 million to purchase luxury cars, the money would ship in 30 new 2022 Range Rovers and would still have some money left over to purchase at least 200 donkeys to traverse the island's narrow streets.
The ex-footballer is not the only one to go all out on tailored jewellery keepsakes. In 2015, billionaire Chicago-bred rapper Kanye 'Ye' West gifted his then-wife, Kim Kardashian, an emerald panther cuff from Cartier worth $73,000 (Sh8 million) and filled her room with individually-vased white, pink, and red roses.
A sweet-scented gesture that Offset, a member of the trendsetting Georgia rap group Migos and husband to Bronx-raised sensation Cardi B, replicated on Valentine's Day in 2021. Keeping up with Ye, Offset lavishly decorated his wife's luxurious room with roses and spelt out the word "love" with heart-shaped balloons.
Years earlier, Ye's mentor and Roc Nation mogul Jay Z had set the ball rolling after gifting his wife, pop queen Beyoncé, a platinum covered mobile phone worth $24,000 (Sh3 million). A drop in the ocean for Jay Z considering that in 2010, the Blueprint star bought Beyoncé her own private island in Florida worth $20 million (Sh2 billion) for her 29th birthday. Kenya, according to President Uhuru Kenyatta, loses the same amount daily to corruption.
When Jay Z put out 'Empire State of Mind' in 2009, Compton native Tyga was taking notes as he whisked his then-girlfriend, makeup billionaire Kylie Jenner of the Kardashian clan, to the top of the Empire State Building in 2017 for dinner and gave her a luxury watch worth $50,000 (Sh6 million). With Sh6 million, one can acquire two Probox vehicles and three 'outrider boda bodas' to mount a serious MCA bid in Monyerero Ward, Kitutu Chache North.
For Hollywood A-lister and philanthropist Angelina Jolie, a 200-year-old olive tree was the perfect gift for her then-husband Brad Pitt. Jolie is said to have coughed out $19,000 (Sh2.1 million) in 2010 to quash rumours that they were splitting and had it installed at their expansive Chateau Miraval home in Brignoles, Southeastern France.
Taking a cue from Jolie on the green gifts, Rebecca Romjin, popularly known as Mystique for her role in the X-Men film series, was gifted a wine vineyard in 2010. Her husband, actor and director Jerry O'Connell, reportedly had an entire vineyard planted at their California home.
Megan Fox took the green revolution further in 2021 when she gave her boyfriend, rapper Machine Gun Kelly, a glass orb with a drop of her own blood to wear as a necklace.
That same year, Black Panther star Michael B. Jordan rented out the Atlanta Aquarium for an indulgent Valentine's moment with Lori Harvey, the model and step-daughter to comedian and television host Steve Harvey. The aquarium, located in Downtown Atlanta, welcomes over 2.5 million visitors annually and hosts over 100,000 animals including Beluga whales.
Songbird John Legend had in 2015 kept the hiring momentum going after he sourced a private jet for a magical holiday with his wife Chrissy Teigen. A tradition that Justin Theroux and Jennifer Aniston kept when they celebrated their first Valentine's Day as a married couple with a trip to Paris in 2016. Waikiki, Hawaii was the destination for Flip or Flop star Tarek El Moussa in 2021 as he lavished his then-girlfriend Heather Rae Young with a surprise trip.
Closer home, Bonfire Adventures founders Simon and Sarah Kabu are a darling to many for their over the top celebration of their love life and marriage. On Valentine's Day 2018, the two dined in Ossiano, one of Dubai's most romantic underwater restaurants. They followed it up with dinner aboard an exclusive romantic train in Livingstone, Zambia in 2020.
While the Kabus were on a fantasy escape in the Royal Livingstone Express, the WaJesus family – Kabi and Milly - were a stone's throw away on a romantic getaway at the scenic Victoria Falls, Zimbabwe.
DJ Mo and Size 8, were, however, moderate that same year as they hosted a dinner talk in Kileleshwa, Nairobi where they shared their marital experiences and offered relationship advice. VIP charges at the dinner cost up to Sh10,000.
2021's bragging rights went to entrepreneur turned singer Diana Marua who bought her husband Kevin Bahati a brand new Mercedes Benz, silencing Eric Omondi's buzz, who in 2018 had gifted his then-girlfriend Chantal Grazioli a BMW X6 for Valentine's.
Not all is rosy on Valentine's Day. Tanzanian songbird Diamond Platnumz had a less-than-stellar February 14 in 2018 after he was sensationally dumped by South Africa-based Ugandan personality Zari Hassan. Ouch!
Happy Valentine's Day!
Related Topics