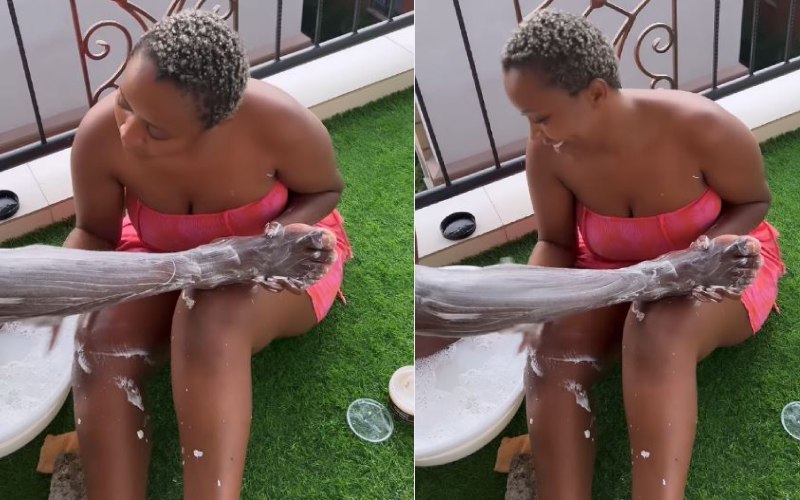 The month of love is here with us and in a couple of days, we will be celebrating Valentine's Day.
While some people may go over and beyond to prove their love and affection towards their partners, others choose a rather subtle approach. "As long as you are happy," they say.
Recently, we have witnessed celebrities going the extra mile to prove to their partners how much they love them. Take for instance gospel singer Veronica Wanja, alias Nicah the Queen who shared a video on social media publicly admitting how she is madly in love with her man DJ Slahver.
In the video, the mother of two is seen scrubbing DJ Slahver's legs, urging women to follow suit. She added that she would rather treat her man at home instead of letting other women pamper him at beauty parlours.
"Mimi na wewe hadi mwisho, nitakutengeneza! Madem, jifunzeni kutengeneza wanaume zenu. Msikubali waende kule salons washikashikwe," she says in the video.
Nicah's acts of love, however, drew mixed reactions from her fans. There are those like @keruboesther60, who commended her for taking the initiative to pamper her lover ahead of Valentine's Day.
"Unawaambia muoe madem wako na watoto mnasema sijui nini see what you're missing guys" @keruboesther60 commented.
On the other hand, @mourineshanja felt it is never that serious. According to her, nothing can stop a man from cheating.
"It is never that serious. Wa kuenda ataenda tu," shared @mourineshanja.
Nicah the Queen is not the only celebrity in Kenya who has gone over and beyond. In 2018, comedian Eric Omondi put up a billboard with a special message to his then girlfriend, Chantal, on one of the roads leading out of Jomo Kenyatta International Airport when she was jetting into the country.
Eric's act love caused a stir among netizens who went on to praise him for his expensive gesture.
Related Topics