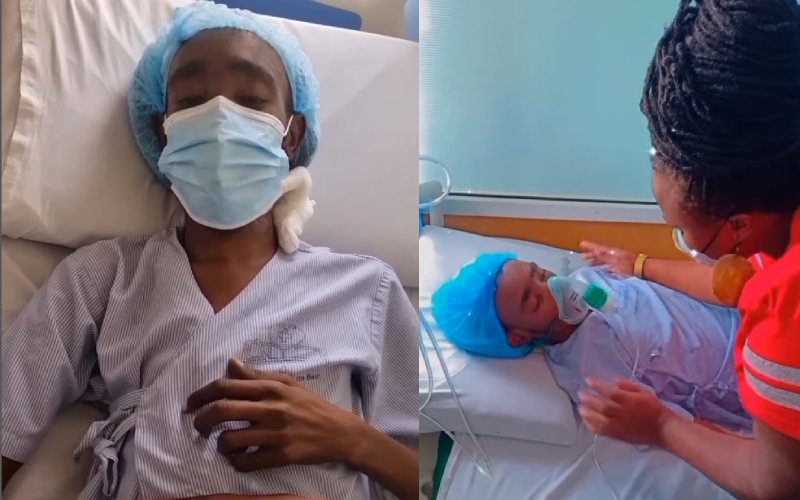 Comedian Akuku Danger is calling upon well-wishers to help him clear his hospital bill that stands at Sh1.5million.
Speaking in a video shared on actress Sandra Dacha's social media page, Akuku thanked his fans for the support and prayers accorded to him after learning of his ailment.
He went on to plead for financial backing to help offset his medical bill so as to be discharged.
"Thanks to everyone for the love, support, prayers. For those who have been showing me love, for those who have been contributing and those of you who are still contributing, from the bottom of my heart I want to say thank you very much and we are almost there. Just keep praying for me and I really appreciate you all," he said.
According to Sandra, Akuku is scheduled to leave hospital on Saturday, January 15, 2022 and is expected to clear the bill before then.
She too has called upon family and friends to join hands to help the comedian get discharged.
"Urgent medical fund drive for Akuku Danger. He is to be discharged on 15/1/2022. Outstanding medical bill 1.5m. We are calling upon friends and family to help us offset the bill," she wrote.
Improved health
Akuku's health has been tremendously improving and was recently transferred from the High Dependent Unit (HDU) to the general ward.
"Good news is that Akuku Danger has now been transferred to the general ward. The hospital bill stands at 2.6M but we've managed to pay 1.2M. So we have a balance of 1.4M and this bill is not final and it's subject to change until Akuku is discharged.
"We are urgently planning for a fundraiser because we don't have money as of now. Please help us. Don't get tired of sending even if you already sent. You can send again and again," said Sandra
In a previous post shared by the actress, Akuku is said to have suffered lung failure and a kidney infection.
"This photo was taken last week when he was admitted at Nairobi Women's Hospital-Rongai and was discharged, put on medication and now he has been readmitted. One of his lungs has already collapsed and is currently in the I.C.U fighting for his life. I ask you all to keep him in your prayers. God is a faithful GOD. Let's all trust in him."
Related Topics