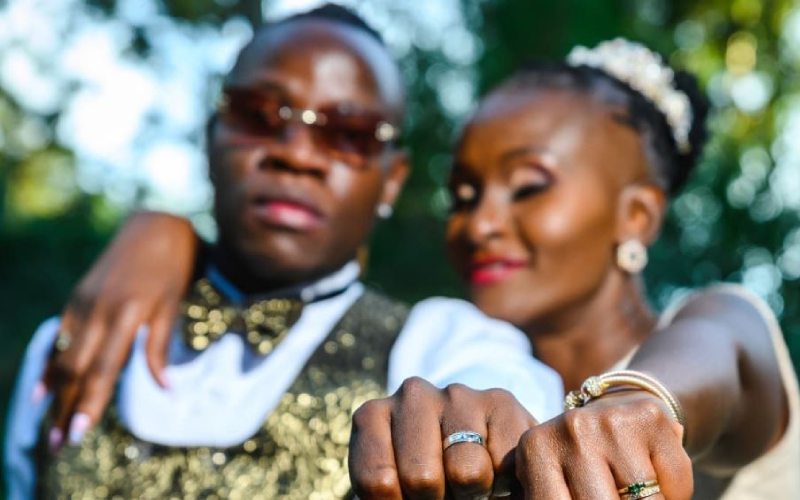 Barely a week after Esther Musila and musician Guardian Angel tied the knot, a lot has been said about their union although the couple has turned a deaf ear to naysayers.
On Monday, Esther took to social media to state that she was ready for a new chapter with the love of her life.
"I'm so ready for our future," she captioned a photo where they were flaunting their wedding rings.
A number of netizens took to the comment section to wish her well but one got the attention of the fitness enthusiast.
"Congratulations, tunangoja mtoto sasa," wrote the Instagram user. This seemed to irk Musila who responded by saying, "wako? Tunakuzalia ama???
Earlier, Musila had shared nuggets of wisdom around what makes women happy and reiterated that self-love is a key component in the path to contentment.
She added that women who stop self-pity and work on their esteem are often happy because they do not need any validation from society.
"The happiest women today are not the married ones. They're not the single ones. They're not the ones with stable careers and good incomes. The happiest women are the ones who made a choice to love themselves wholly and truly.
"They stopped playing victims. They stopped whining in self-pity and dining in pity parties. They moved past their anger, tears and bitterness. They realized that happiness is a personal choice and responsibility. They chose to be defined by their present, but not their bitter pasts," she wrote.
Esther was once married but her husband died, leaving her with three children to take care of.
She has worked for an international organisation, was a banker at one point and has a YouTube channel with close to 100,000 subscribers.
When they (Esther and Guardian) met three years ago, they never anticipated love blossoming between them.
In a previous interview, Musila said she was not looking for love or a relationship until a song sealed their fate.
She said she was driving to work and a song by an unknown singer was playing on the car radio and she could not shake it off. Intrigued, she got in touch with a radio presenter who told her the song was by a gospel artiste called Guardian Angel.
She met the man behind the song and as they say, the rest is history.
Related Topics