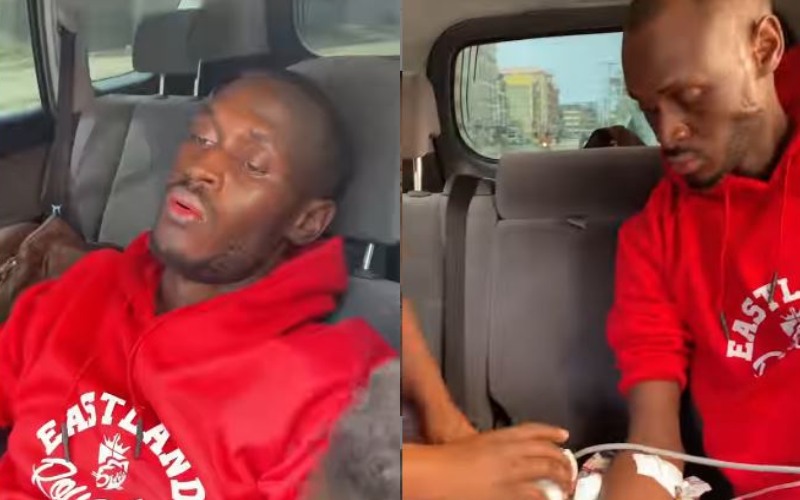 Media personality Nana Owiti has shared a never-before-seen video of her husband King Kaka who has been ailing for a while.
In the video uploaded on her social media page, the Kaka Empire founder is seen resting in their car as a doctor drew blood from his arm.
Although utterly grateful for her husband's healing, Nana reveals that she has not gone through such dark times in a while and considers this experience the worst.
"What you guys never got to see. I will never stop thanking God for taking us out of the lions' den. I had never seen such darkness in a while. Every day I thought I had seen the worst, I saw the 'worstest' the next day... I watched my husband constantly knock death's door but still wore God's amour… Maybe he was knocking the door so he could knock the devil off," she wrote.
According to Nana, on that fateful day, her husband's condition had worsened and they were on their way to hospital but because of a traffic snarl-up, they could not make it. Their doctor, Dr. Stanley, was however kind enough to hop onto a motorbike and meet them halfway where he commenced treatment.
"On the real… @thekingkaka put up a fight. He never gave up and if he ever did once, he never showed it. On this day, he just got super sick and we couldn't get to the hospital because of traffic and so Dr. Stanley hopped onto a motorbike and met us on the way. God bless you Doc," she added.
Netizens flocked the Chat Spot host's comment section with encouraging words, with a number of her fans commending her for sticking by King Kaka's side and taking care of him.
Also read: King Kaka shares first photo after illness
"Aki my dear @nanaowiti your strength has inspired me a lot. Was shocked when the news came out that your hubby had been sick for 3 months or so. 3 whole months and you showed us your normal smile. The world didn't see the broken part inside you. Aki hugs, hugs, hugs. You really portrayed the character "strength of woman". Proud of you," wrote a user by the name Beckygifty.
Djggactivist added, "We thank God for his healing. God bless you Nana for holding him up. Tunamuombea."
"Oh my @thekingkaka may God fully restore you bro. Nana, you deserve the world," wrote kriserroh.
Expressing his gratitude to God for the gift of healing, the Wajinga Nyinyi crooner too shared a before picture of himself looking gaunt on a hospital bed right after undergoing a procedure for a bone marrow test.
Also read: I lost 33kgs after misdiagnosis - King Kaka
"That's me, still can't believe it. Two days after I was admitted and they had just finished drilling on my hip bone for a bone marrow sample. I was in between worlds fighting to see my family once more. I would force my last smile when Nana and Moms visited but truth is the nights got darker and I would be back in the ring with life.
"It's a feeling and place you can't put in words. Nights when the devil threw in a few suggestions but the light got stronger for me to listen. Not yet out of the woods but I've just realized that waking up is a Blessing, are you able to eat? That's a blessing. You have a support system? That's a blessing," he wrote.
Related Topics