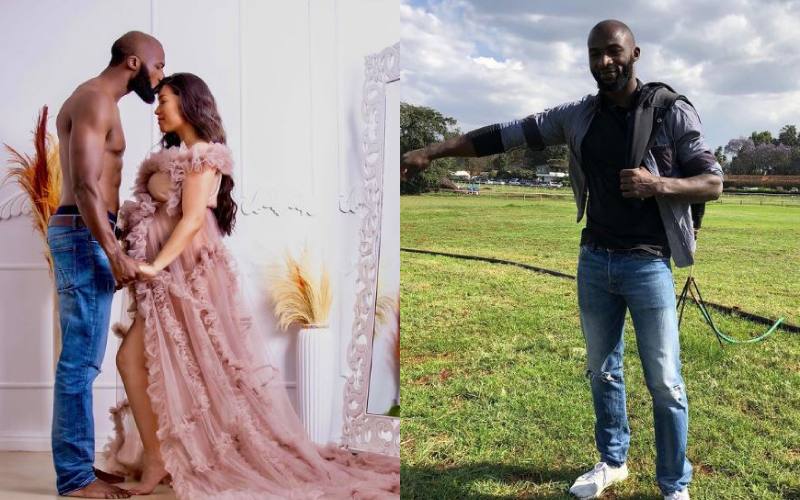 Rugby 7's player Dennis Ombachi popularly known to his fans as Roaming Chef and his wife are expecting their second child.
Sharing the exciting news via his social media, the celebrated sportsman posted an adorable picture of him cradling his wife's baby bump with the caption, "I am good at a lot of things but pulling out ain't one of them, sibling rivalry coming this summer."
The couple's pregnancy announcement comes a few weeks after they celebrated their first child's birthday.
The food enthusiast marked the young man's day by throwing him a lavish party with close friends and family in attendance.
"My little man is not so little anymore! You're growing up, buddy, and I am so pleased to see what a gentleman you're becoming. You obviously take after your old man! I hope you continue being the lovely person that you are and that you never let anything change that. Wishing you all the happiness in the world on your special day today! Happy birthday!" posted the rugby player on social media.
Good role model
According to Dennis, becoming a parent has been the most fulfilling and rewarding thing to ever happen to him. Because of this, the social media influencer hopes to be a good role model to his son just as his father was to him.
"Becoming a dad means you have to be a role model for your son and be someone he can look up to. I hope I can be good of a father as my old man was to me.
"My father gave me the greatest gift anyone could give another person, he believed in me. And I am gonna do the same sh*t with this little clown," he wrote in a previous post.
As a way of bonding with his toddler, the self-taught chef began preparing different sumptuous meals for his son to try and so far loves it.
"That babies have an underdeveloped sense of taste thus boiled bland food is a myth! The first foods are their introduction to nutrition and plays a big role in how your child's flavor profile develops. They have an affinity towards sweet & umami flavors and kid you not, they are born with more taste buds than us! Any food can be cooked into baby food! (Can't wait to start dancing and changing clothes 79 times a day to fit in here. Pray for me.)"
Struggle with bipolar disorder
A few months ago the rugby player disclosed that he had been suffering from bipolar disorder alongside depression, a state he admits has adversely affected his life and that of his family.
"I am Dennis Ombachi, kind of an international rugby player and a guy who's passionate about cooking, what many people don't know is that I am medically diagnosed with bipolar disorder. Many years I have struggled with this & depression. I would usually disappear from social media & occasionally miss flights when I had made the team. This behaviour was always blamed on me "just being Dennis". What my coaches and teammates didn't know was how much pain I was in," read part of his tweet.
Related Topics