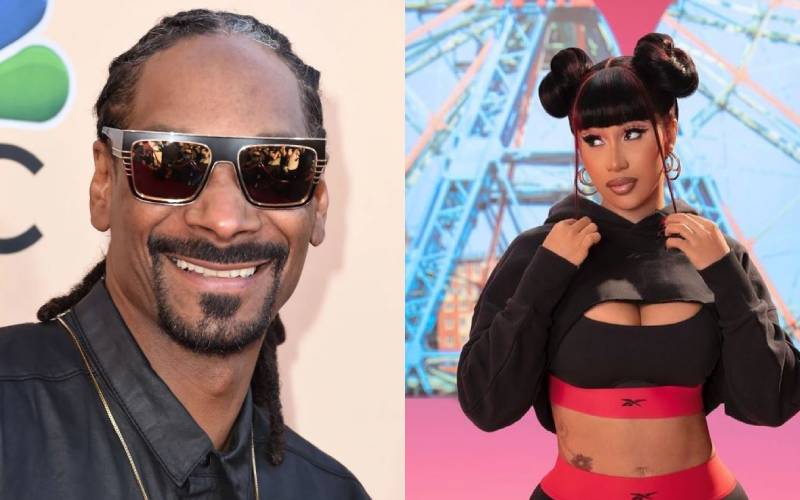 When it comes to hilarious videos, you can put your money on Kenyan content going viral. And recent actions by international celebrities such as Cardi B and Snoop Dogg seem to agree with this notion.
On Monday evening, the WAP singer treated Kenyans on Twitter with a good old throwback video of Kenya's third President, Mwai Kibaki.
The former Head of State was famous for the hilarious insults he made during his speeches, some of which were cut into snippets and made their way into funny memes on the internet.
Of all the viral videos of Kibaki on social media, Cardi B seemed to have resonated more with the one where the former president publicly acknowledged that he had one wife, Lucy Kibaki.
"I want to make it very clear, that I have only one dear wife, Lucy, who is here, and I do not have any other. Ask any question you want to ask me," said Kibaki in the video while addressing journalists.
His wife Lucy, who was standing next to him, then said, "Ask now, or never."
The video went viral again, gaining over 10,200 retweets and 41,300 likes less than 24 hours after the rapper posted it.
???? pic.twitter.com/vPpaWVmCdi

— iamcardib (@iamcardib) October 4, 2021
Most of the comments on the post were from Kenyans, some of who shared other viral videos of the former president and his wife. However, others felt Cardi B was passing a message regarding his marriage to fellow rapper Offset.
Cardi's tweet came days after American Rapper Snoop Dogg, who has 65.4million followers on Instagram, shared Comedian Eric Omondi and socialite Sherlene Anyango's video dubbed, 'What sex scenes are like in movies.' The video got close to 12 million views and over 42,000 comments.
How To Get Away With Murder lead actress Viola Davis also shared the same video and captioned using the hashtags #WrongCouplesOnly and #NotTheTupperware. Notably, Viola even went ahead and mentioned Eric Omondi.
The funny video received a lot of reactions from Kenyans and international celebrities, among them Pop singer Rihanna.
"Olivia Pope and Jake Ballard," commented Rihanna, referring to lead actors of Scandal's award-winning series.
The video gained a lot of traction after being posted by the two celebrities that a British social media publisher, LADbible, shared it on their Instagram page with over 11 million followers.
Eric Omondi could not hide his excitement following the recognition, as he reposted the video saying, "Mama we made it." He later joked about marrying Rihanna after she reacted to the video.
However, this is not the first time that Kenyan videos have gained international recognition, and Snoop Dogg seems to be the leading celebrity in making sure that happens.
In 2016, the rapper, real name, Calvin Cordozar Broadus Jr, shared a video of Kenya's award-winning music band Sauti Sol performing their hit song Kuliko Jana featuring Redfourth Chorus (Upper Hill School).
He captioned the video, "If we could all live in harmony," and gained over a million views.
In 2019, Snopp yet again shared a viral video of controversial Kenyan televangelist James Ng'ang'a and joked about how he was casting out evil spirits from his church members.
"When you are late with the offering but the Reverend needs his money," Snoop captioned the video clip.
In the short clip, the Neno Evangelism founder is seen repeatedly hitting a young man on the head in a bid to exorcise him before moving on to hit other congregants on the head.
However, the rapper later deleted the video, which had been widely shared locally.
In March 2020, Cardi B also showed some love to Kenyan dance crew Litdance 98, dancing along to her song, Coronavirus.
"I am boutta tell Atlantic to put this song on Spotify" Cardi B captioned the tweet after sharing the dance video.
The dance crew's choreographer Tileh Pacbro took to Instagram to express his excitement after again putting Kenya on the map.
Related Topics