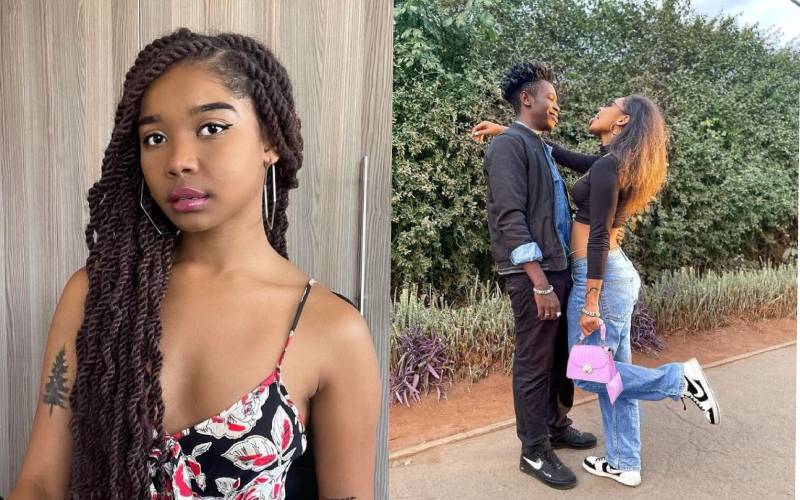 Popular YouTuber Elodie Zone had netizens talking days after posting pictures with her new man on Instagram.
"It has been a beautiful fight… still … is," Elodie captioned the photos, confirming she has moved on from her previous relationship with musician Nviiri The Storyteller.
On Wednesday morning, the YouTuber took to her Instagram stories and addressed what she termed as lies concerning her new relationship.
Advising youths in their 20s, Elodie said that it is normal to date and experience relationships, given the curiosity of young people.
She added that the society or Kenyans on Twitter should not dictate whom youths choose to date and explore life with.
"Been seeing a lot of lies going around about my relationship life since my last post and so I want to speak on it. Firstly, advice for anyone in their 20s like me. We are young, curious and in our prime years. It is totally normal to date and experience life," she wrote.
She added: "Never let society of Twitter make you feel bad about exploring and figuring out what you like and want."
The 24-year-old also said that she does not have any ill will with any of her exes and that she is currently in a good place.
"There is no bad blood between me and anyone I have been with in the past. We are all living life large with our loved ones and vibing. I am cooling and happy for the first time in a long time," said Elodie.
During a question and answer session three months ago, Elodie disclosed that she suffered physical abuse in her past relationships.
When a fan asked what kind of abuse she encountered, Elodie said; "I have hidden bruises from my past two relationships. I have felt stupid and I have been undermined. I have been told to keep quiet."
"I have been told to stop speaking up on social media because I will look like I am 'acting out.' I have been told that depression means you overact - all are total nonsense. I want men and women in my position to raise their voices. We may be small but our voices cannot be silenced."
Elodie even went ahead and addressed an incident that happened earlier this year where a guy she was purportedly dating left her stranded at night during curfew hours.
"Yup. January 1, 2021; there are videos online of him slamming me against a table and leaving me and my baby cousins at a club past curfew. Cross-check with my "life is good" highlight," she said.
The YouTuber first came into the limelight while dating Former President Mwai Kibaki's grandson, Sean Andrew.
Related Topics