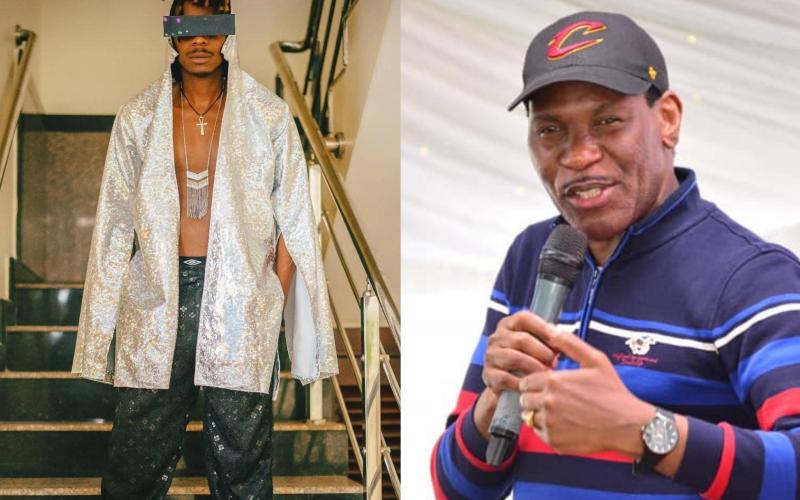 The war of words between Kenya Film Classification Board CEO Ezekiel Mutua and comedian Eric Omondi is far from over as the two continue to butt heads.
As the drama drags on, Eric Omondi flaunted 'Sh3 million' he claimed he earned from a single show. The video was captioned: "Tag Ezekiel na umwambie ASHINDWE!!!"
It all started a few days ago when Mutua branded the comedian as broke and poor. This after Eric contributed Sh200,000 to Bahati following the cancellation of a deal between the singer and KFCB.
"Hakuna pesa alitoa. Omondi ni maskini…hizo ni sarakasi za kujionesha. Wanafanya hizo sarakasi waoneshe wanakejeli serikali lakini hakuna pesa ya kweli,"said Mutua.
"Hawa watu wote ni maskini bwana wa kusaidiwa. Mbona hakumpatia mbeleni? Omondi hana ata mia ata elfu kumi ya kupatia watu…wasanii wanaumia…yeye ni muombaji. Sarakasi ndio zinafanya wapate depression. We talk to them and we know them and we know who is making money," added Mutua.
A furious Eric took to social media and hit back at Mutua, accusing the moral cop of failing to honour his pledges to artistes and promised to eject him from office once he gets back from Tanzania.
Eric is in Tanzania where is expected to give a show later today.
"ENOUGH is ENOUGH!!! We have to stop this NONSENSE!!! All the money I make is through blood and Sweat…."
In a video that has now since gone viral, Eric continued his onslaught against Mutua, saying the money he was flaunting was from a single show earned through sweat and blood.
"Talent pays, you will not discourage the young generation," Eric said in the video.
Related Topics