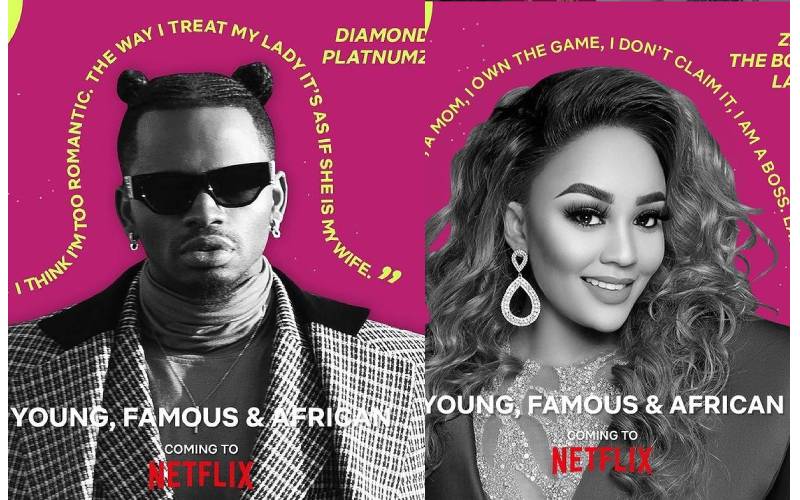 Taking to Instagram, businesswoman Zari Hassan shared that she would make an appearance on reality television.
"Born in Uganda. Flourishing in Mzansi. Now we're taking over Netflix! See me bossing it up on @netflixsa and @naijaonnetflix's first-ever African reality show, coming soon! #YoungFamousAndAfrican," read her post.
Diamond, who shares two kids with Zari, will also appear on the reality show, which will soon show on our screens. Following suit, he too made the news public via his social media handles.
"GUESS WHO??? They're young, they're fresh, they're unapologetically African and they're coming to your screens! Can you guess some of the stars and their famous sayings? #YoungFamousAndAfrican", he wrote.
The show titled 'Young Famous and African' is set to premiere on Netflix South Africa.
In May of this year, celebrity couple Nameless and Wahu inked a deal in a reality show with a large audience tuned in on Showmax. The docu-reality series that premiered on May 24 saw the couple open their doors to fans and followers in a show that focuses on matters highlighting their timeless love, colourful lives, and legendary history, as well as the lessons they have picked up along the way.
The two reality shows are just but a long list of more reality shows set to premiere in the coming days.
Sol Family, Stori Yangu, and Our Perfect Wedding are more examples of reality shows in the country.
With reality TV being the current TV trend, is it becoming a lucrative business deal in Africa?
Will we see millions reaped from reality TV as is with the case with The Kardashians, who recently saw their hit show end after 20 successful seasons? Only time will tell but as for now, keep your eyes glued to the entertainment that comes with watching reality shows.
Related Topics