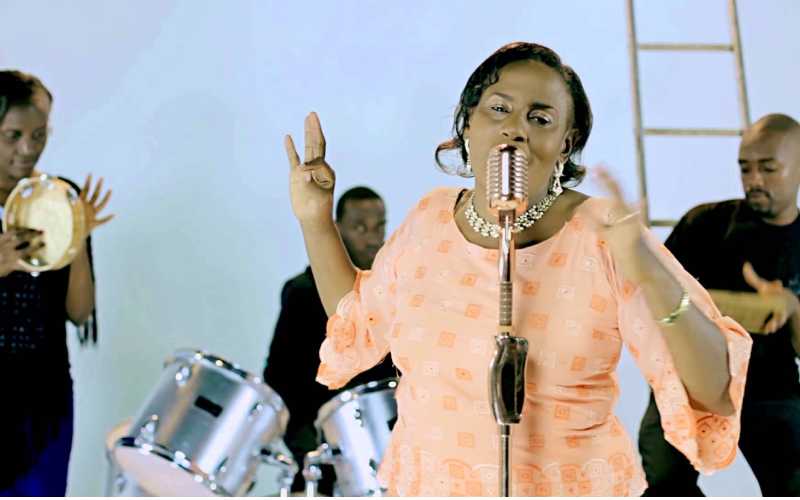 Veteran gospel singer and songwriter Jemmimah Thiongo may be described as sweet, motherly and gentle- an artiste who delivers Christian ministry in her work with prowess.
It would be hard to imagine someone being rude to her, or worse, dismissing the talent in her vocal range and calming soprano voice.
Emerging from her break from the limelight, the singer has revealed in an April 18 interview on Standard Group's Radio Maisha that her journey in music has not always been rosy. The singer shared in the sit-down that she too, faced harsh rejection when she started out in her pursuit of music.
"I've been singing since I was a young girl. However, I was once chased from the studio. I loved Kiswahili and would use the language in my music. That day, the producer criticized me for singing in Kiswahili and told me to go back to farming. That was in 1997," said Thiong'o.
The gospel singer further said that it was the encouragement of a Bishop as well as that of her loved ones which enabled her to rise from the disheartening criticism.
"Six years after my encounter with the producer, a Mount Kenya Bishop, Prophet Peter Njenga encouraged me after hearing me perform as a vocalist in church. Every time he would see me since, he would ask where my music was and thankfully I returned to the studio," said Thiong'o.
The celebrated Pendo La Ajabu singer also spoke candidly about her work in charity, revealing that she has long been passionate about prison ministry and service to people in need.
"After releasing my first album, I threw myself into prison service and ministry. I also focused on helping girls from poor backgrounds access toiletries and sanitary towels, as well as a little shopping while returning to school from the holidays. I worked with a team and we also visited children in cancer wards. After some time, I found that the prison ministry was my higher calling and narrowed down on it," said Thiong'o.
The singer is popularly known for the hit song, Mwenye Baraka, which topped charts in the early 2000s and became an anthem of sorts for the Christian faithful, who sang along across the country to "Akisema atakubariki, hakuna atakaye zuia" which meant that no human being can challenge God's decision to bless.
The mellow track was like a ray of sunshine to the hopeless, a reminder of a higher power's goodness that would overcome all challenges and overturn all fears. It played in households, matatus and eateries, and became a soft and memorable tune that reverberated through the country.
Speaking about the harsh economic times brought about by the pandemic, hitting the church too, the Pendo La Ajabu singer said that ministry work in church is not supposed to be a job. Rather, it should be something a person does as a calling and as a substitute to labour or work elsewhere.
"We should be like Paul from the bible. He would make fishing nets but preach at the same time. If you earn from the ministry, that's fine, but if you don't, that should not aggravate you as a man or woman of God. This pandemic has taught us that the work of God must be done. As a person in ministry, always have your net option like Paul. Mine is farming," said Thiong'o.
The singer urged young ministers to be self-sufficient in other ways with or without their earnings from the church, even if it means beginning from a humble start.
"The work of ministry is about sacrifice, not about making money. The situation should teach us that we should all unite to help the church," said Thiong'o.
Thiongo said that farming is a second passion of hers, one that she makes a living from aside from her work as a musician.
"I have always loved farming, my close friends and family know that. My joy is in the farm. I have composed many of my favourite songs while out on the farm," said Thiong'o.
The singer added that since retreating from the limelight, from where she has been working on her music and farming, she has been enjoying a quiet life as a mother and grandmother.
"All my children are now married, and I've began to have grandchildren. For that I am grateful," Thiong'o said.
Speaking about the anticipated release of new music from her, the artiste revealed that she has not stopped working on her music, adding that her fans should expect some new songs soon.
"Despite being engaged in various different causes, I have never stopped pursuing music. My team and I have been working on some music, but we have a few things to smooth out before releasing the songs. They will be out in due time," said Thiong'o.
Related Topics