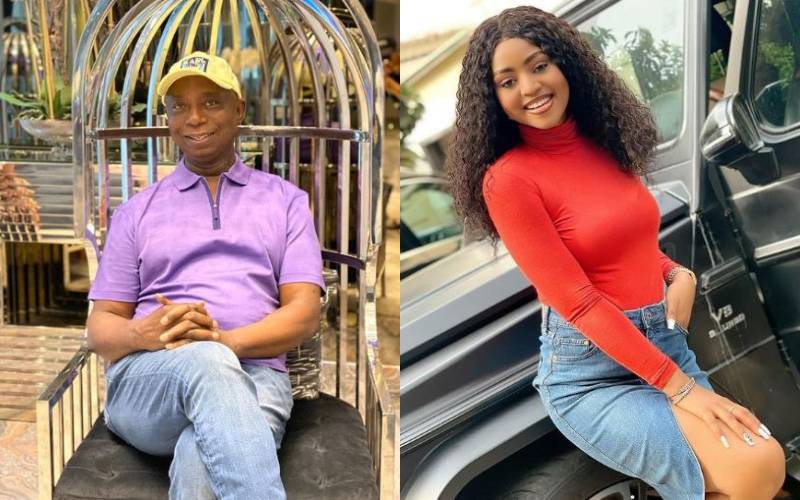 Nigerian billionaire Ned Nwoko is one proud husband and father. The 60-year-old politician and philanthropist has never shied away from public display of affections towards his 20-year-old wife, Regina Daniels.
In his latest move on Instagram, Ned shared some lovely photos of his wife, who also doubles up as an actress, and their son, Munir.
"Beautiful mother and son," he captioned the photos.
From the expensive jewelry pieces to the exotic car gifts, Nwoko continues to shower his younger wife with unlimited affection.
However, every time they go public about their feelings towards each other, a section of their followers criticizes the two, making fun of the age difference between them.
ALSO READ: Regina Daniels denies reports that her husband is about to marry a 7th wife
Recently, the two found themselves surrounded by controversy after one Somadina Adinma, who is allegedly Regina's ex-boyfriend, claimed that Ned Nwoko is not the biological father of Regina's baby.
According to local media, the said ex-boyfriend released a video on social media claiming that Ned Nwoko stole his beautiful girlfriend because he has more money and affluence than him.
However, responding to the unconfirmed reports, Ned Nwoko lamented that this is not the first time the said ex-boyfriend is attacking him on social media, adding that he married Regina Daniels legally and didn't deserve all the negative publicity.
ALSO READ: Regina Daniels flaunts expensive gifts from hubby days after breakup rumour
Despite the baseless claims, Ned Nwoko wrote a well-detailed post on social media describing Regina Daniels as his missing ribs and saying that he married Regina Daniels as a virgin. Ned says he didn't even know that Regina Daniels was a star actress before he married her.
"I liked her when I first saw her, especially when I found out that she was from my place. I had always wanted to have somebody from my side to be my wife. We were introduced to each other, and one thing led to another. That is when I found out that she was a very decent girl. I have always said that I wouldn't marry anybody who isn't a virgin, and that is very important to me. When I found out that she was a virgin, it reinforced my decision to marry her. I married all my wives as virgins," He stated.
Regina Daniels is Prince Ned Munir Nwoko's sixth wife. The couple tied the knot back in 2019, and in June 2020, they welcomed their first child.
Related Topics