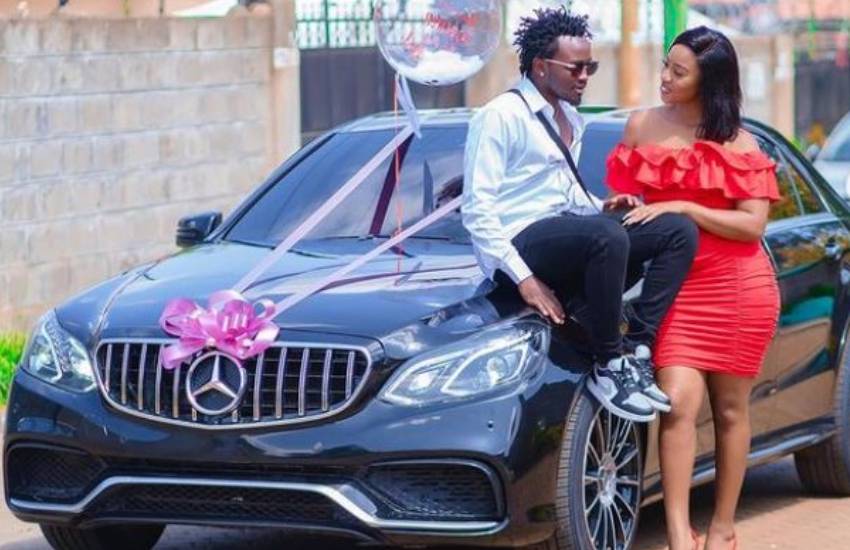 Popular Kenyan singer Kevin Kioko alias Bahati and his wife, Diana Marua, have been serving serious couple goals on social media after their love series streamed on their respective YouTube channels.
The adorable couple on Valentine's Day spent quality time together - pampering each other with various gifts, to show their love for one another, and netizens could not keep calm. Surprising her husband on Valentine's Day, Diana went all out and gifted the singer a Mercedes Benz. Overwhelmed, Bahati took to social media with a hearty letter to the love of his life.
Read Also: Diana Marua's sister recounts being pregnant with twins at 19
In his post, Bahati thanked Diana for always striving to bring out the best in him, despite their age difference. "Babe, babe, my baby... I don't know how to write this nor where to start. You came to my life and gave it meaning... I now know the meaning of true love. We have been through a lot but you have never given up on our dreams. Despite our age difference, you have never doubted me as the head of our family. Have I told you that you are my biggest motivation and my pacesetter? Every day you try your best to be the anchor of this family; Still the best mum to our Kids. You are simply irreplaceable. Looking at my past I was not used to gifts but look at what you did... A Mercedes Benz as valentine's gift!!! Sweetie this is too much!!! Let me internalize. Thank you and may God keep you for me."
Charity work
While feeding homeless families in the streets of Nairobi as a part of his Valentines gift, Bahati bumped into a lady identified as Helen whom he had previously met while at ABC Kenya Children's Home where he and his son Morgan Bahati once lived.
"Even as I celebrate my Valentine's gift this is my biggest lesson!!! Never take any kind of blessing for granted. For those who have watched my last YouTube upload; as we were doing Valentine's feeding program in the rainy streets of Nairobi we met this lady (Hellen) who really shocked @diana_marua and I. Sleeping with her few months old baby in the cold, she said: "Salimia #Kerio" - a nickname we used to call my son @morgan_bahati back then at ABC Kenya children's home coz he could cry a lot," shared Bahati.
Read Also: Bahati's ex Yvette says Diana Marua is 'kind' on and off camera
Broken by Helen's current situation, the father of four promised to share the love he has by continuing to assist street families so as to accord them a better life than he had.
"Unfortunately, Hellen, who we grew up together at ABC Children's Home is now living and sleeping in the cold streets of Nairobi because after leaving the children's home things have not been easy with her child they are now homeless. And this left me thinking of God's grace. Is it because of our righteousness? Have we done anything better, that we can afford a plate of food? No!!! We are planning on how best to help and also take her back to school because she dropped out in form 2... And as we do our best to assist in transforming the lives of these street families and others that are in need as God enables us...... Let us also never forget to be thankful for the little that God has blessed us with... Above all thanking God for the great gift of life and shelter," added the singer.
Related Topics