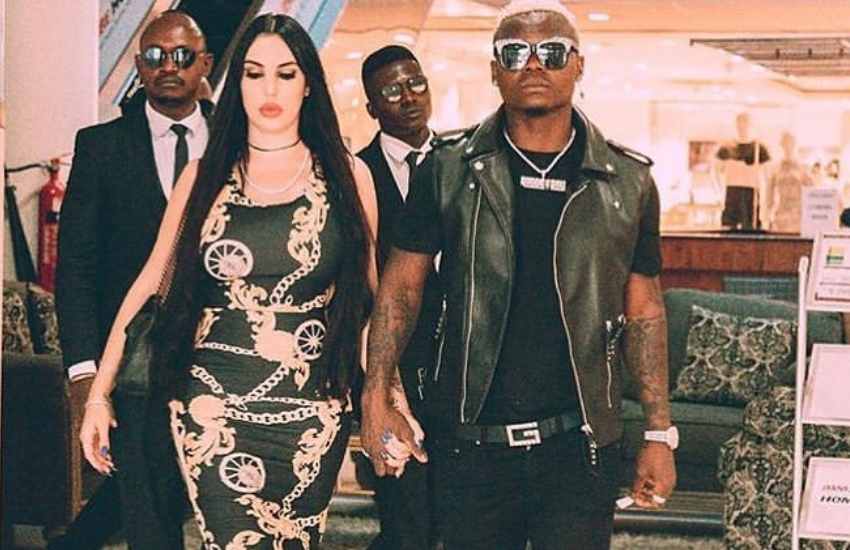 Sarah Michelotti is breathing down the necks of rumour mill churners whom she accuses of peddling falsehoods about her four-year relationship with Tanzanian singer Rajab 'Harmonize' Kahali.
Read Also: Beef season for Harmonize and Diamond Platnumz
In a strongly worded post in defence of her estranged husband, the Italian beauty said she will not be backed into a corner with disparaging narratives about her life and that of the singer, nor will she be defined by misinformation about her love choices and adoration of her adopted home, Tanzania.
Opening up about her fractured relationship with the Uno star, which ran aground in early December after he revealed that he sired a child with another woman, Michelotti said she will always respect the Konde Gang boss.
"I am surprised by what is going on about me and harmonize on social media. I wonder why people are making false stories about me and him. As a human, there could be misunderstandings between us but I cannot take situations for granted because I am not as cheap as people think. I stayed in a relationship with him for 4 years and more and there were no stories," shared Michelloti.
"If there's anyone out there using our misunderstandings for their own benefits, I want them to know that is very wrong. I even had a script to some people from the industry insulting him and is not the first time I guess. Tanzania is my second home, I can't hurt anyone since I respect each of you. You are my family and whatever happens, is for a reason maybe was not God's plan, maybe we just need a space for some time or is forever gone, but I will always respect him, please take note."
Setting the record straight after Harmonize disclosed that he fathered a daughter - Zulekha, Michelloti said the crooner ignored two DNA results, which she claimed were conducted by Lancet Laboratories - Tanzania Limited, which determined that he was not the father of the child. "You've done a DNA test twice on the baby and the results came back negative, showing that you're not the father. But since you've failed to father a child of your own you are now claiming someone else's baby… I loved you for the person I thought you were, I gave you all the happiness which you failed to reciprocate," she said.
Read Also: Harmonize exposes Wolper, reveals his Italian wife Sarah is pregnant
Adding: "You've revealed to me that you are a man with no respect, a liar, someone who doesn't know how to keep a wife like me or to be proud of the person who gave you a good life. I've been through a lot in this fake relationship x marriage. If I reveal everything everyone will be shocked. You are two-faced. You didn't even appreciate what I did for you and now it is too late. Life will teach you the lessons you deserve for what you've done and now I will be focusing on my life."
Related Topics