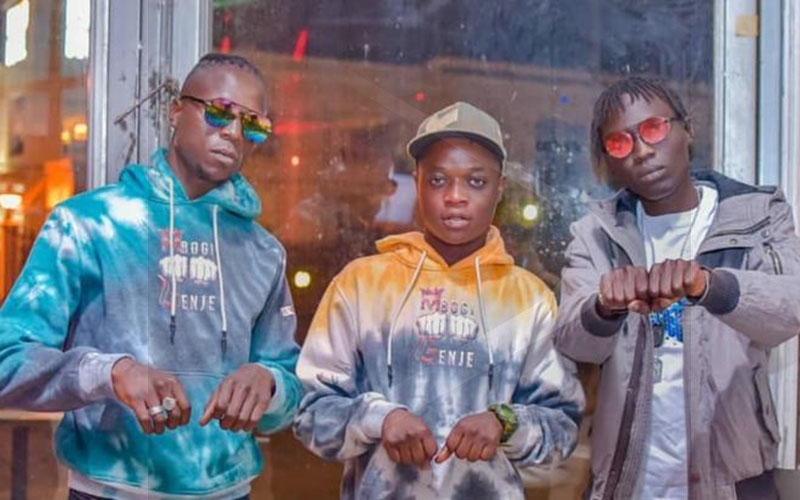 The Kenyan sheng culture is dynamic; it changes into new forms with time. They say slang is the language of the youth; it speaks for them, through them and they use it to hide meanings of words. Sheng has been adapted and embraced by pop culture, hence the instant rise of the Gengetone genre. Gengetone brought new and fresh young artists who came with new Sheng phrases. The genre caused a Sheng revolution, something that had not happened since back in the day when Genge -with artists such as Juacali, Jimwat and Nonini- was the main 'Sheng genre'.
READ ALSO: Can God answer Sheng prayers? DJ Soxxy sparks debate
Musicians such as Ethic Entertainment Mbogi Genje, Wakadinali, Khaligraph Jones and Chris Kaiga are at the frontline of leading the Sheng revolution through their lyrics. Even though people regard Sheng as an unofficial way of communication, the language is gradually taking over and its usage rampantly accepted not only the young but also older generation and corporate world. Check out some of 2020's Sheng words:
Kumuok – Coming
Warazi – Enemies
Arif/Fafiri – Friend
Kitu Peng' – Beautiful girl
Mrenga / Mbathi – Car
Kanairo – Nairobi
Njege/Sanse – Police
Mbwegze – Two
Mashashola – Weed / Cannabis
READ ALSO: Ten Sheng sentences that may save your life
Kuwamocho – Drinkng
Wolan/Wagwan – Yes/Ok
Madenge – Girls
Kushikisha – Chewing Miraa
Niko wire – I'm broke
Nauwo – Understand / Know
Niko machingli – I'm rich
Kuwa mawenge – Being horny
Mochoka – Come
Buda / Mzing – Father
Mongre – Brain
READ ALSO: The latest Sheng in town
Wabbling – Water
Medi – Meditate
Kubuya – Being afraid
Zimenice – Feeling high
Zabe – Chill out place / Base
Rende / Mbogi – Crew
Senke – Boda Boda
Bien – Ok
Miyo – Kayole area
Mtaratara- Bring to par
M-Chwa / M-Sape – M-Pesa
Piga mosheti- Cut with a sharp object.
Related Topics