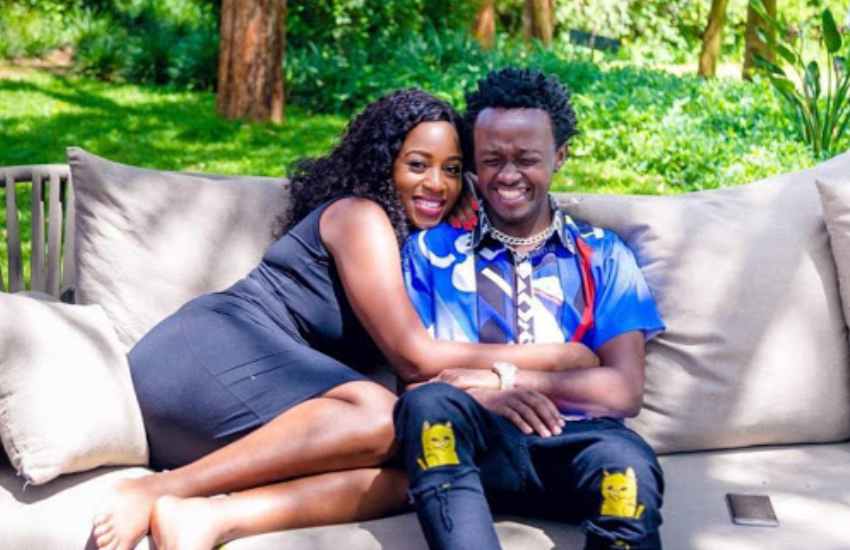 Is celebrity couple Kevin Kioko alias Bahati and his wife Diana Marua going through a rough patch in their marriage? This is a question many are asking after Marua unfollowed Bahati and deleted their pictures together from her Instagram account.
Taken aback by the move, netizens were left wondering whether the two are really fighting or are using the unfollow tactic to attract attention to themselves for an upcoming project.
Read Also: 'What did I do to deserve you my King?' Diana Marua appreciates husband
The alleged fallout comes a few days after the Wa Nani crooner revealed that he and his wife never argue. "They say that people who argue often are the ones that love each other more. Surprisingly we don't argue and yet we love each other so much. Are we okay?" he wrote on social media.
Although neither of them has come out to set the record straight on what is troubling their marriage, Bahati Friday, November 27, 2020, took to social media to warn bloggers against cooking up stories of what might have happened between them. "Stop planting flowers in people's yards who aren't going to water them so bloggers stay away from my family," he wrote.
The singer recently revealed that he was not interested in picking anyone's call and was headed out of the city for some much-needed downtime. "Let's reduce the calls please, not interested. Time to leave the city for a breather," he wrote.
Relationships are hard work
Speaking during a previous interview, Marua explained that relationships are not perfect like many people on social media make it seem. She said that relationships are not just about goals, need commitment, hard work and perseverance.
"Relationships are not a bed of roses, at least from my experience. Social media can be quite deceiving at times because some people only highlight the best moments of their lives. No one shows you their downfall or the challenges they experience in this journey of life. The fact that we've been raised differently and come from different backgrounds, we have had our own tough share of 'bitter' love and even thrown in the towel," she said.
Adding: "In some of our disagreements, each one of us knows/ thinks that I am right while the other is wrong and vice versa and we all know the end result of that... Relationships are not goals, they are hard work, commitment, perseverance and being mature enough to know that not every disagreement is worth arguing or fighting about. Maybe sometimes the best solution is to walk out for your own sanity."
Read Also: Diana Marua explains why she ditched IUD contraceptives
The two went through a similar phase, a while back, that saw Marua pack her bags and leave their house with their kids. "Work, work, and work every single day you are just busy you don't even have time for us. A lot has been happening, he has been away from home most of the day. You always come back at midnight. Morgan saw you last when, don't make me feel like a single parent," she disclosed.
Related Topics