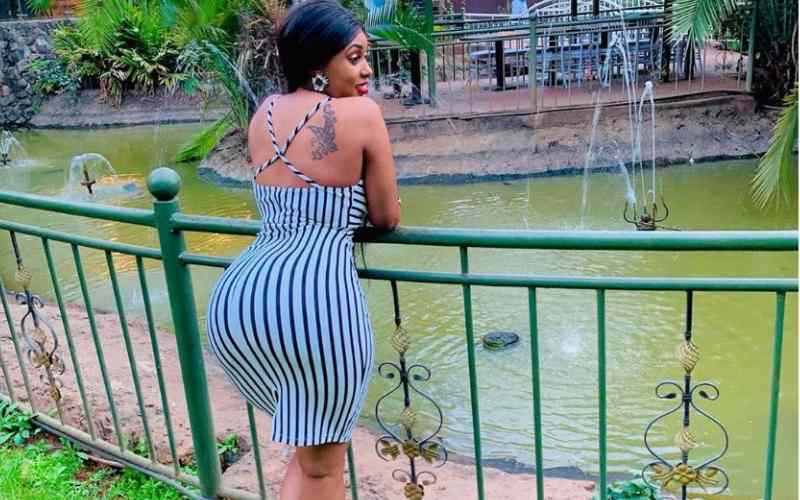 Controversial Socialite Faith Makau alias Amber Ray has come out to clear the air over allegations that she once practiced witchcraft. Through an interactive social media chat with her followers, the video vixen said she has never used black magic in her life. While refuting the claims, Amber added that very soon she will give an explanation over a photo that surfaced sometime back.
It all began in a Q&A session on Instagram when a curious fan sought to find out whether the curvaceous socialite used witchcraft to get her ex-hubby Zaheer Jhanda. "Why do you use Witchcraft?" asked the fan. Amber maintained that she has never used witchcraft in her life and soon she will explain the origin of the rumour. "I know it's hard to believe this but I have never used witchcraft in my entire life… anyway, one day I will tell my side of the story. You all better be ready," read Amber Ray's response.
This is not the first time Amber is responding to the same question from a curious fan. She was first accused of using witchcraft by Aaliyah Zaheer, her former co-wife. The accusations began when her photo holding two chickens, one black and white, and covered from head to toe in a strange piece of white cloth went viral some years back leaving many wondering what she was up to.
According to Aaliyah, Amber Ray had gone to a witchdoctor so that she could get love portions to charm her husband, a claim she refuted. Aaliyah went on to insinuate that the said picture was taken in a witchdoctor's den where Amber had gone to seek portions to lure the prominent Kisii politician.
Also read: Elodi Zone and Nviiri dating?
"..to me and my family you are a non-issue apart from this time you have done the unbelievable at your age you can resort to witchcraft. Ladies beware...", read part of her post. Aaliyah accused Amber of trying to snatch her husband and feared that the lass was using juju to attract her husband's attention and money.
"I only got to know about the alleged affair after my trip to China, when my neighbors and sons told me that a strange lady had been visiting our matrimonial home while I was away on the trip," she revealed, adding: "Prior to this, my family lived happily. My husband is a loving, humble family man and we have not experienced fights before."
Also read: How jealous woman lured her ex to car park and chopped off his genitals
On getting wind of a possible steamy affair, Aaliyah decided to confront her husband. "Initially, he fervently denied before later admitting to having had an affair," she discloses.
Amber Ray and Zaheer later separated.
Related Topics