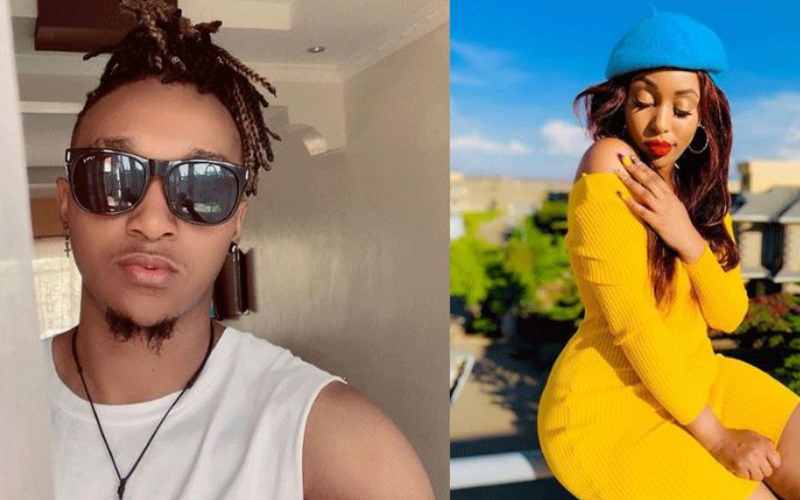 Popular Kenyan socialite Faith Makau better known as Amber Ray has finally broken her silence over ex-boyfriend Brown Mauzo moving on. Opening up on her Instagram page during a Q and A session with her fans, the mother of one cited 'life' as the reason she and Mauzo had to go their separate ways.
"It is just the other day that you and Brown Mauzo were calling each other Babe, what happened?" a fan posed. "Life Happens," she responded. "He is happy and I am happy," she added.
Asked who she is currently dating the curvaceous video vixen responded saying, "Many guys, why?" Amber Ray and Brown Mauzo were first rumoured to be dating back in 2019 after Mauzo shared a series of affectionate posts of the two of them during Amber's birthday party. The singer came out not too long after to confirm their relationship.
"It is true, it is not rumors. People can clearly see from our social media that we are together," he said.
Witchcraft?
The social media sensation went ahead to clear her name from witchcraft speculations after a picture surfaced showing her in a shack covered in a piece of white cloth holding two chickens; one black and one white started doing rounds on social media sometime in 2016.
In the post, Amber Ray refuted the claims stating that she has never practiced witchcraft in her entire life promising to give her side of the story when she gets the chance. "I know it's hard to believe this but I've never used witchcraft in my entire life. Anyway one day I'll tell my side of the story. You all better be ready," she wrote.
Amber Ray's ex-husband Zaheer Jhanda's first wife Aaliyah Zaheer also accused the video vixen of using black magic to get Jhanda to marry her, allegations the socialite strongly denied. "..to me and my family you are a non-issue apart from this time you have done the unbelievable at your age you can resort to witchcraft. Ladies beware..." read part of her post.
Also read: Is Amber Ray dating Brown Mauzo
In her defense, Amber Ray explained that the picture being referred to was taken from a movie scene she was acting in. "I don't use juju, that picture was taken in a movie set that I was acting in." The businesswoman split with Jhanda after two years of marriage under unclear circumstances.
Also read: Kanye West declares his love for Kim Kardashian on her 40th birthday
"I would like to inform you that I am no longer married to Zaheer Merlahi Jhanda and no one should link me to him or his family in whatever way. It's about time I share with you this very important move in my life, which will also set some of you free because you have been waiting for this day for way too long and I do not want to continue holding you hostage. Feel free to keep the screenshots, keep em' receipts for future use," she wrote.
Related Topics