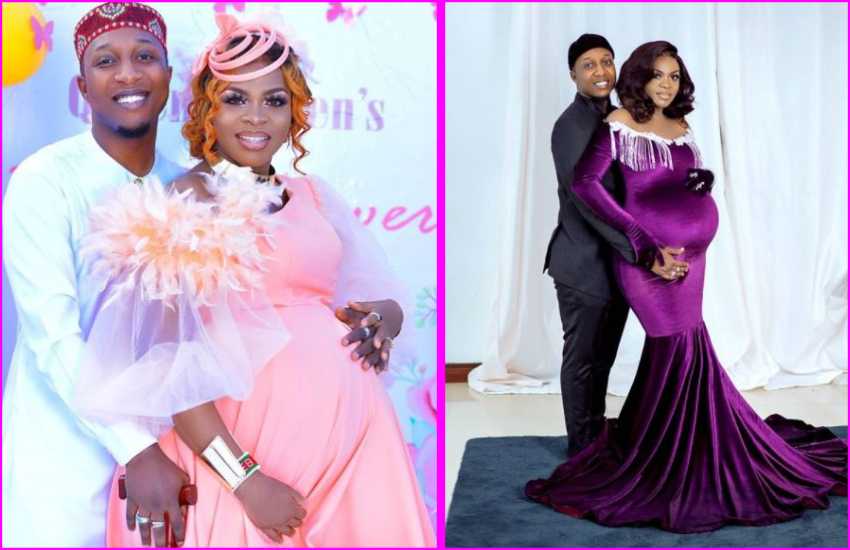 Celebrated Kijuso hitmaker and elder sister to Wasafi Classic Baby (WCB) founder Diamond Platnumz, Queen Darleen, real name is Mwanahawa Abdul, is the newest mother in town after welcoming a daughter with husband Isihaka Mtoro.
Announcing the baby's arrival, Mtoro revealed that the chanteuse gave birth on Saturday, October 10 to an adorable gift, baby Balqis Isihaka. "Ya Allah leo ni tarehe 10.10.2020 (tarehe ambayo haitakuja kujirudia) umenijaalia zawadi ambayo nilikuwa naisubiri kwa muda mrefu mno. Ila kwa ukubwa wako siku ya leo umeniletea na si ujanja wetu bali ni kwa mapenzi yako kwetu. Ahsante na pole mke wangu @queendarleen_ hujui tu furaha iliopo kwenye moyo wangu kwa huyu malkia balqis @balqis.isihaka," he posted.
Although Darleen has not shown a full photo of the little one just yet, she posted a cute snap of the baby holding onto her finger. It was sweetly reposted by Balqis' grandmother, Sanura Kassim alias Mama Dangote. "Haiya @uncle_shamte sasa ujipange @queendarleen_ ndio kasha kuletea kitu kipya kabisa bint @isihack cc wazee utuache," she captioned.
A message echoed by well-wishers who were also thrilled to see the little one for the first time. One wrote: "Congrats queen darling ukishatua huu mzingo unamshukuru Mungu kabisa hii safari sio mchezo..." Another added: "Uncle Amepata mke mama Jiandaye kwavijembe ndo mkewake shamte mwengine love hongera darleen." A third said: "Maashaallaah maashaallaah mabrokni Mungu awakuzie." Others said: "Masha'Allah Allah awakuzie kichuna chao" and "Hongera kwake." And another commented: "Allah amkuze amuondolee mabalaa amuondolee husda ampe neema pamoja nawazazi wake inshaallh."
Darleen's original photo has since received over 55,000 likes.
The two lovebirds held a baby shower in early September, 2020, ahead of her delivery date in an exquisite ceremony graced by her family and close friends including top WCB signees.
Related Topics