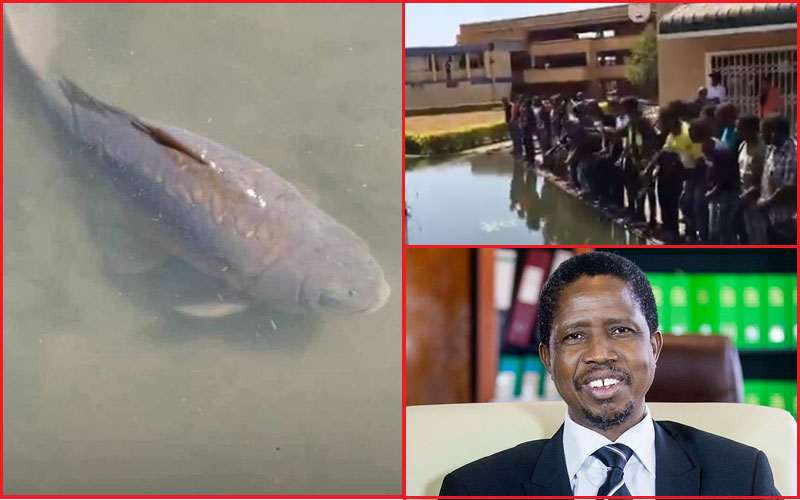 Zambia President Edgar Lungu on September 8 joined students of one of the country's leading university in mourning the death of a 'good luck' fish. Students from the Copperbelt University lit candles and marched mourning the fish which lived in a pond within the institution.
"Mafishi was part of the #CBU community for a long time…. I'm glad you received a befitting send-off. We'll all miss you," the president wrote on Facebook while quoting Mahatma Gandhi, "The greatness of a nation and its moral progress can be judged by the way its animals are treated."
The death also trended on Twitter under the hashtag #Mafishi, as the fish was fondly referred to as. For almost 20 years, students at the campus believed that the fish would bring them good luck in their exams and they would pay homage to it before entering the exam room. Lawrence Kasonde, the president of the Copperbelt University Student's Union told the BBC that the fish's death is under investigation and that "It is yet to be buried, we are planning on embalming it."
READ ALSO: 10 most popular African leaders on Facebook 2020
A video shared on Twitter depicted students standing around the pond and singing the national anthem. In a statement, Zambia's minister for Higher Education Dr Brian Mushimba said that President Lungu has committed to restocking the pond once the investigation into Mafishi's death is concluded.
His Excellency the Preident, Dr Edgar Chagwa Lungu, has committed to restocking the pond where #Mafishi lived all those years after the conclusion of the review in the circumstances of how Mafishi died. Thank you Your Excellency for being a father and friend to CBU always ????????????????????????.

— Minister Higher Education, Zambia (@HonMushimba) September 8, 2020
Here are some of the reactions to Mafishi's death:
Paying our last respects to #Mafishi ???????? na national anthem for our hero ???? pic.twitter.com/25KrmAqpEB

— Mukanzala IK???????? (@CBUmoma) September 8, 2020
It was more than a fish... RIP Mafishi pic.twitter.com/f9creZAVmw

— the Duke of Kitwe (@innocentsimuko) September 7, 2020
Herring about #Mafishi made me fink. Do fish have soles? Do they go to a better plaice? Will they find the piece of Cod? Does life have a porpoise?

— James Blewett (@jamesblewett8) September 8, 2020
This place won't be the same without you mafishi????????... R.I.P #Mafishi .,... pic.twitter.com/FnJAY0gzAj

— Miss-Taken ?????????????? (@iam_mwila) September 8, 2020
When the fish from your relatives place died you didn't say anything. But you're here talking about Mafishi who didn't even know you.

— Lord Masulani (@Masulani_) September 7, 2020
I ddnt know #Mafishi at all but i see the TL is mourning... my heart felt condolences to the bereaved family.

— #wakandaforever (@jeSuis_Amy) September 7, 2020
Someone ati #Mafishi died after hearing the ZMW to USD exchange rate ???????????????????????????????????????????????? ! pic.twitter.com/vrzroJl6ID

— Joewy Lombe (@JayeLombe) September 8, 2020
You guys are really crying over a fish #Mafishi Cbu students: pic.twitter.com/1SYjx6JzqB

— S.S Nube ???????????????? (@TryDanube) September 8, 2020
CBU students will do almost anything just to shan away from academic pressure ????????????#Mafishi

— Chilled Engineer ???????? (@MwizaChileshe) September 8, 2020
That fish was our Mascot . Is there a problem with that? Zambians che. #Mafishi

— ImJustBeingHonest ? (@Kainetic) September 8, 2020
Go well #Mafish Learnt of the passing on of #Mafish with great sadness. I came to know #Mafish when I served as CB Minister through my engagement with COBUSU and I fell in love with #Mafish and all the good things she represented to CBu students and visitors alike.#RIP #Mafishi pic.twitter.com/j91N5AWTmp

— Bowman Lusambo (@BowmanLusambo) September 8, 2020
Related Topics