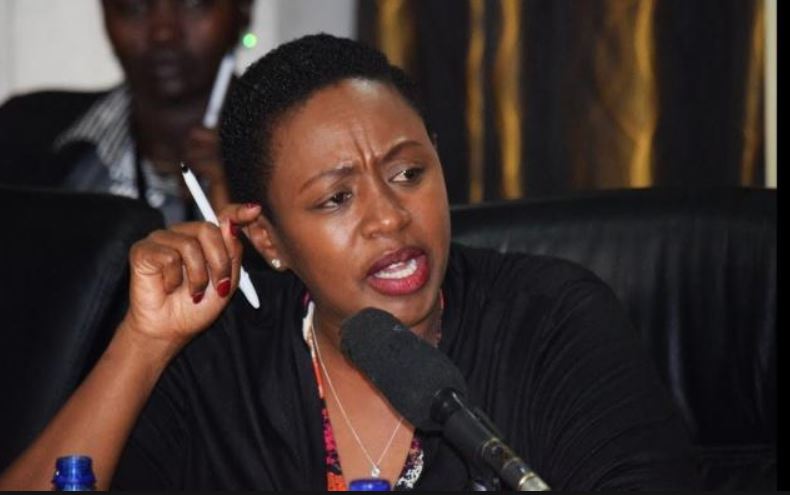 Besides her radio and theatre fame, little was known about Sabina Wanjiru Chege before she was elected Murang' a Woman Representative in 2013 on a TNA Party ticket. She went on to gain more prominence in the public sphere when she was voted chairperson of the Parliamentary Committee on Education, Research, and Technology.
Emerging as one of the powerful female politicians in Central, its time you got to know the Murang' a Women Representative. A straight-shooting politician who is never scared to speak out her mind and, for that matter, one of the most admired for her excellent test when it comes to social lifestyle.
1. Sabina is a member of the Jubilee coalition
Not to mention how close Sabina and President Uhuru Kenyatta are, Sabina has been a staunch member and loyal follower of the Jubilee Political party.
2. Sabina is a family woman
Sabina Chege is married to Maina Gathitu and is a mother of three. She is also a staunch Christian.
3. Sabina was a radio presenter
Between 2002 and 2005, she worked as a presenter at Kameme FM, a Kikuyu radio station. In 2005, Chege quit Kameme and joined Communication Firm Space Africa as the Regional manager. In 2007, she joined Kenya Broadcasting Corporation (KBC), where she worked as the Programs Controller.
4. Sabina was a video vixen
Sabina Chege was featured in popular Benga musician, the late John De' Mathew's music album. She featured in the video 'Njata Yakwa' (You are my Star). The video elicited speculations with claims that Chege was dating the musician, something she has since denied vehemently.
ALSO READ: Why Sabina Chege is still mourning John De'Mathew
5. Sabina was an actress
Chege was an actress in the popular TV drama series, Tausi, where she played Rehema's role.
6. Sabina is highly educated
She attended Kinyona Primary School before proceeding to Mugoiri Girls' High School for her KCSE. Sabina holds a Bachelor's Degree in Education Studies from the University of Nairobi and a Master's Degree in Communication Studies.
7. She can sing praises and is a known coordinator of events
Sabina can make a good emcee thanks to her communication skills and wealth of experience that she has gained through her previous media and theatre activities. A little bird hints that she can sing and that even at some point, she wanted to become a recording artiste (we would like to see her release a song). Besides, she was a good youth leader in her locality growing up.
8. Sabina wanted to be a Kikuyu elder
Sabina Chege had once tried to be a Kikuyu elder but was strongly condemned by the 'other' elders. The elders said even the first female chief in colonial Kenya, Wangu wa Makeri, who served in Wangu location, was not declared an elder. She was warned of the risk of angering ancestral spirits that may strike back and cause her misery.
ALSO READ: Hot Women Representative Sabina Chege and co-wife in love drama
9. Sabina was born in 1972
The sassy Murang' a MP is enjoying her late 40s and getting prettier while at it. Having thrived in the showbiz world, she must be living by the game's rules.
10. Sabina has her own foundation
She is the founder and director of Sabina Wanjiru Foundation, an initiative for mentorship and awards program for students under the foundation and National Government Affirmative Action Fund in Murang' a County.
Related Topics