Celebrated popular Kenyan actress Esther Chebet better known as Matilda from her role in the popular TV series Real Househelps of Kawangware has startled netizens after posting a photo of a young girl who undeniably would pass as her twin sister or even her child. This is because of the striking resemblance the young girl shares with the actress. Taking to her Instagram page, Matilda posted the photo, which excited her fans with a section failing to believe that the two do not share any blood relations.
"Mtu anitafutie huyu mtoto aki???????????? The resemblance is striking!!! (Someone help me look for this child) she posted.
@nel.sha on Instagram admitted that she had never seen such resemblance
"Oh God...from eyes to everything gaiii sijaiona resemblance kama hii," she said.
Actress turn radio presenter Nancy Wanjiku, also known as Shix Kapienga, took to the comment section to question the photo saying that it could be a throwback photo.
"Sio #TBT, (It's not a throwback?)," she questioned.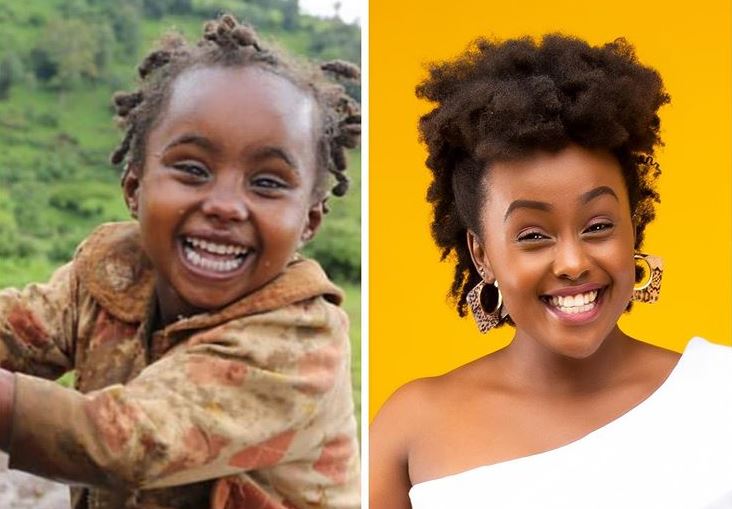 ALSO READ: Actress 'Matilda' takes a jab at netizens pushing celebrities into depression
Chebet was recently on the spot for sharply criticizing netizens over unrealistic societal expectations that are driving celebrities into depression. Sharing her two cents on her Facebook page, Matilda condemned the mass mentality that most online users have. That once you appear on TV, you automatically have to live a particular lifestyle because you are then perceived as a celebrity. She also added that societal pressure to make it big as a celebrity has driven several individuals into depression. She asked the public to give those in the limelight peace because, just like everyone else, they struggle to make ends meet.
"By the way foolish people online want to see celebrities who made appearances on TV severally to roll in expensive cars, they want them to go live in Runda yet they have little salaries. When artistes fail to live according to fans' expectations, they stop loving them. People should take their pressure to the gym, do you think depression is a toothache? Celebrities are also hustling just like everyone else," she said.
ALSO READ: Five Kenyan celebrities who have battled depression
Speaking about her stint at Real House Helps of Kawangware (TRHK) show, Chebet explained why she was forced to leave the show. According to the actress, circumstances pressed her out of the show that aired on KTN at the time. She went to her bosses and asked to have her role removed from the script. Chebet said that she did not plan on what she was going to do after the Real House Helps, but she wanted out of the comfort zone she was already in.
"Honestly, for Real House Helps circumstances pushed me. I was pushed, I didn't have any plans on you know… but circumstances pushed me, so I just decided can you remove me from your script kidogo and that was that. And then I felt that I needed to get out of that comfort zone. I needed to explore and see what else I could do," she narrated.
Related Topics