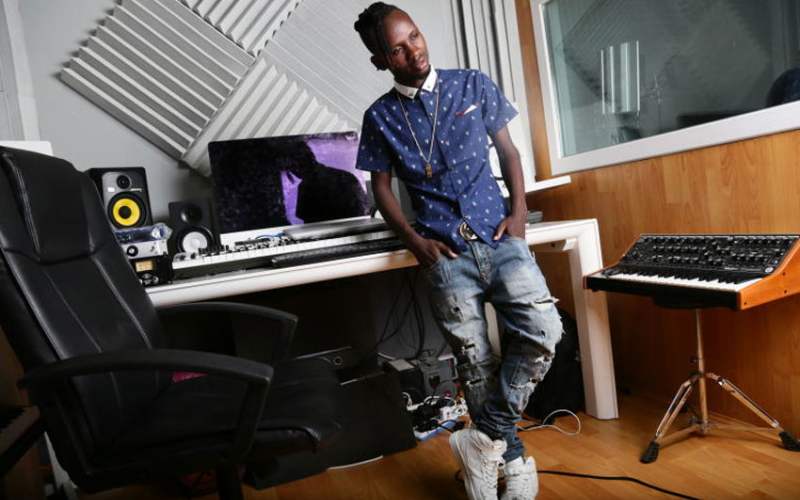 Wasafi Classic Baby (WCB) record label's official producer Iraju Hamisi Mjege better known by his stage name Lizer Classic has come out to refute claims that he is no longer working at the prestigious Tanzanian record label. Speculations about Lizer's exit from WCB were fueled by the fact that he went mute on social media for close to a month without posting and was even replaced at work by another producer.
Setting the record straight during an interview with Wasafi Media, Lizer explained that at the time he was down with malaria which dragged on for close to three weeks and he had to stay indoors to get the much-needed rest and recover fully.
"I'm still at WCB. I'm still the official producer there. My contract is still intact," he assured. Asked whether he was worried about losing his job while he was away, Lizer explained that he was not stressed at all and had no problem with someone else standing in for him. "No, I was not stressed. I remember when I was sick another producer had to do my work. I was indoors for three weeks because it was malaria," he said.
Also read: Mama Dangote shows off Diamond's car collection
Going through his social media, you will notice that the talented producer does not have as many pictures with his boss Diamond Platnumz as you'd expect considering they spend so much time together. Lizer explains the reason for this to be his lack of interest when it comes to taking pictures, even of himself. "I'm not photophobic. I don't really need to post, I don't even have a photo with diamond. Most times, I do work with him and I don't take photos."
Climbing the career ladder
Lizer's musical talent has accorded him numerous opportunities to interact with other creatives even on international levels, something he is grateful for. He was recently part of the Coke Studio Africa Season 6, an experience he says was worthwhile.
He first started off as a singer and ventured into music production much later in his career and realized that's where his heart was, going on to produce fire hits such as; Kwa Ngwaru, African Beauty, Sikomi and Inama just to name a few.
Also read: Taarab singer reveals he is in debt
"I have always loved music but I wasn't always a producer. I was a singer first then I became a producer out of curiosity. I knew if I would be able to produce my own music, it would save me money and give me freedom to make my own music the way I liked it," he said in a previous interview.
Adding: "Over time I found that I loved to produce music for other people and I didn't like to sing anymore. Then, my music performed very well in my hometown Kigoma. To date, people remember me. But by the time I moved to producing, I was yet to break out as an artiste in Tanzania."
The ambitious producer says he draws inspiration from the late Roy who helped put Tanzanian music on the map. He produced songs for people like Mr. Blue, Matonya and the likes who were big in Tanzania then. Lizer credits Roy for largely influencing his earlier style that led him to find his footing and his own sound.
Related Topics